GINGER SPICE DONUTS (COCONUT FLOUR)
these ginger spice donuts are grain free, gluten free, scd diet friendly, and topped with cinnamon-flavoured shredded coconut.
Donuts are not an every day occurrence, but they do make life a lot more enjoyable when they're around. Even if it's not your fried, sugar-topped donut, there is something about a baked good just being in the donut shape that is exciting and fun not only for the baker but for the eater. 
I don't have many (if any?) donut recipes just yet, but I want to dive further into the donut possibilities when you're grain free and gluten free. These donuts are filled with a warm, delicious ginger spice that's baked by nutmeg, cinnamon and cardamom, giving the flavour some depth.
They're so delicious warmed up in the morning, but of course, a donut can be enjoyed at any time of the day. They look fancy enough with the cinnamon-coconut topping, but the topping is very easy to do (I'm a proponent of easy & quick toppings).
Like many of my baked good recipes, these donuts are made with coconut flour. I've said it before and I'll say it again (!), I find coconut flour to be the best grain free flour for fluffy, not-to-heavy baked goods, which is what you want from a donut. Almond flour can be a lot more dense, which incidentally makes it a bit heavy and hard to even eat. 
The coconut flour results in the perfect consistency, absorbing the coconut milk along the way. Besides for the ginger-spice mix, you'll need your usual SCD baking staples: baking soda, eggs, honey, and grapeseed oil. If you don't have grapeseed oil, you could definitely sub it with melted coconut oil.
I'm not one for a long pre-recipe ramble, so I'll say less and leave the recipe below. Let me know if you try making it! You can find me on IG @grainfreee.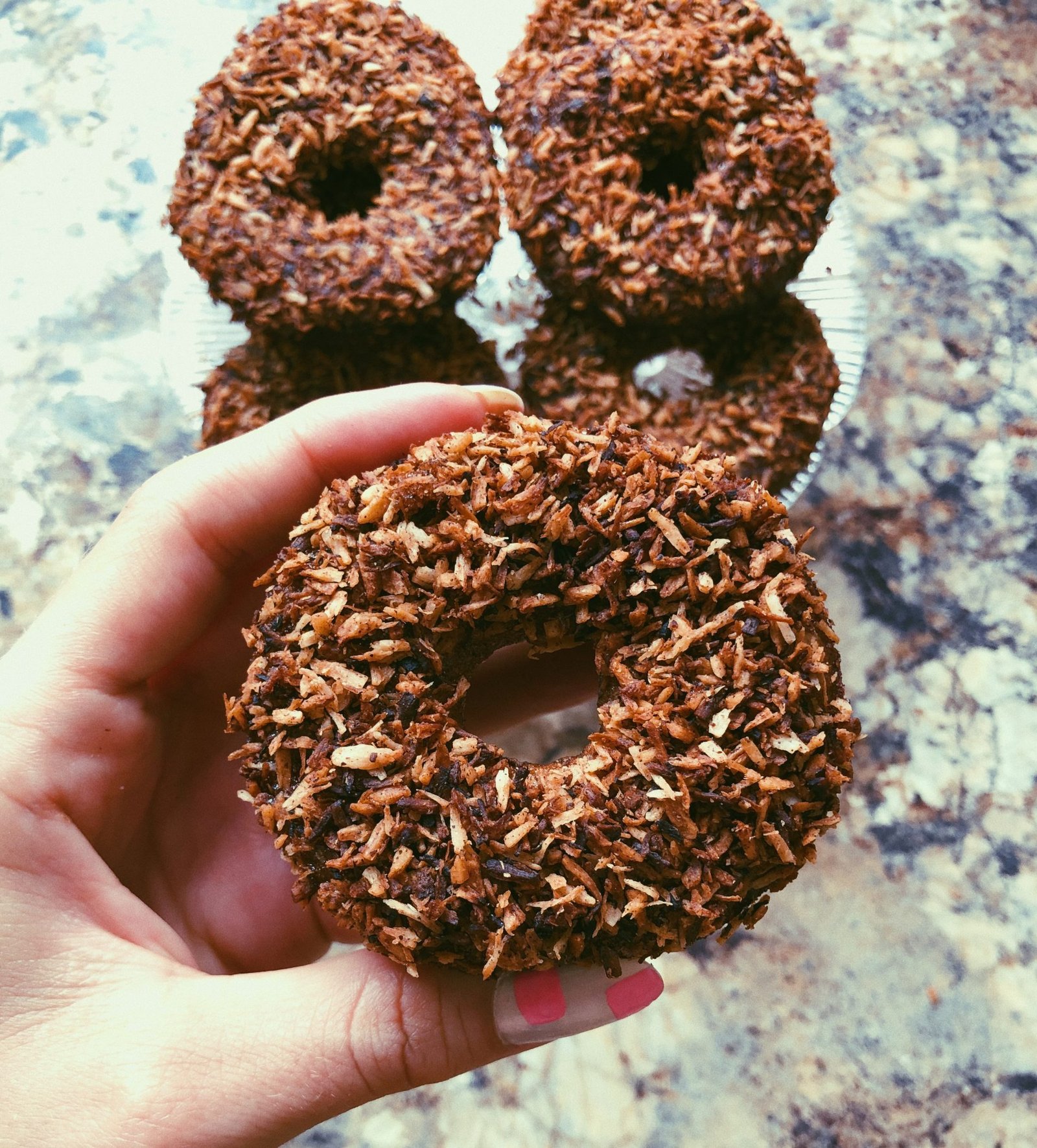 ginger spice donuts: ingredients
1/2 cup of coconut flour
1/3 cup of honey
1/3 cup of grapeseed oil
4 eggs
1/2 tsp of baking soda
1/4 tsp of allspice
2 tsp of ginger
1 tsp of cinnamon
1/2 tsp of cardamom
1/2 tsp of nutmeg
1/3 cup of coconut milk
ginger spice donuts: how to
place your coconut flour, all your spices, and baking soda in the food processor, and mix.
add in your wet ingredients, ending with the eggs, and combine well in food processor.
empty out the batter into a donut tray, ensure it's well-greased with butter or coconut oil so you don't have any issues removing the donuts after.
bake the donuts at 350 for 20 mins. makes approx 8-9 donuts.
remove from oven and allow the donuts to cool before you remove them from the tray. i take a knife and carefully carve around the edges of the donut before i pop one out of the tray to help the process.
cinnamon coconut topping: ingredients
1 cup of shredded coconut
1 tsp of cinnamon
1/4 tsp of nutmeg
cinnamon coconut topping: how to
over medium heat, on a dry cast iron pan, place your coconut, cinnamon and nutmeg and mix around.
continue to stir frequently to avoid burning, for 10 mins or so, until the coconut has turned a golden brown.
warm a few tbsp of honey in a small bowl, and you'll use this to dip each donut top in the honey, before you dip it into the pan of shredded coconut. be careful if the honey is hot! dip each donut and set aside.
store in fridge, layered in parchment paper.