GRAIN FREE KEY LIME CUPCAKES WITH TOASTED MERINGUE FROSTING
these cupcakes are essentially mini key lime pies, with a key lime cupcake topped with a pillowing mound of meringue frosting, lightly toasted.
This isn't my first dabbling in key lime flavour and it certainly won't be my last. I have a recipe for fantastic key lime pie bars on my site already, which basically act as key lime pie but in bar-format, down to the key lime pie filling. These, on the other hand, take that concept in theory, and revise it for a cupcake format, which incidentally, is ~not~ pie– there is no crust here, just a simple and easy-to-make key lime flavoured cupcake with a massive pile of toasted meringue to finish it off. If you're looking for something more traditional and pie in format, may I recommend scoping out my lemon meringue pie recipe.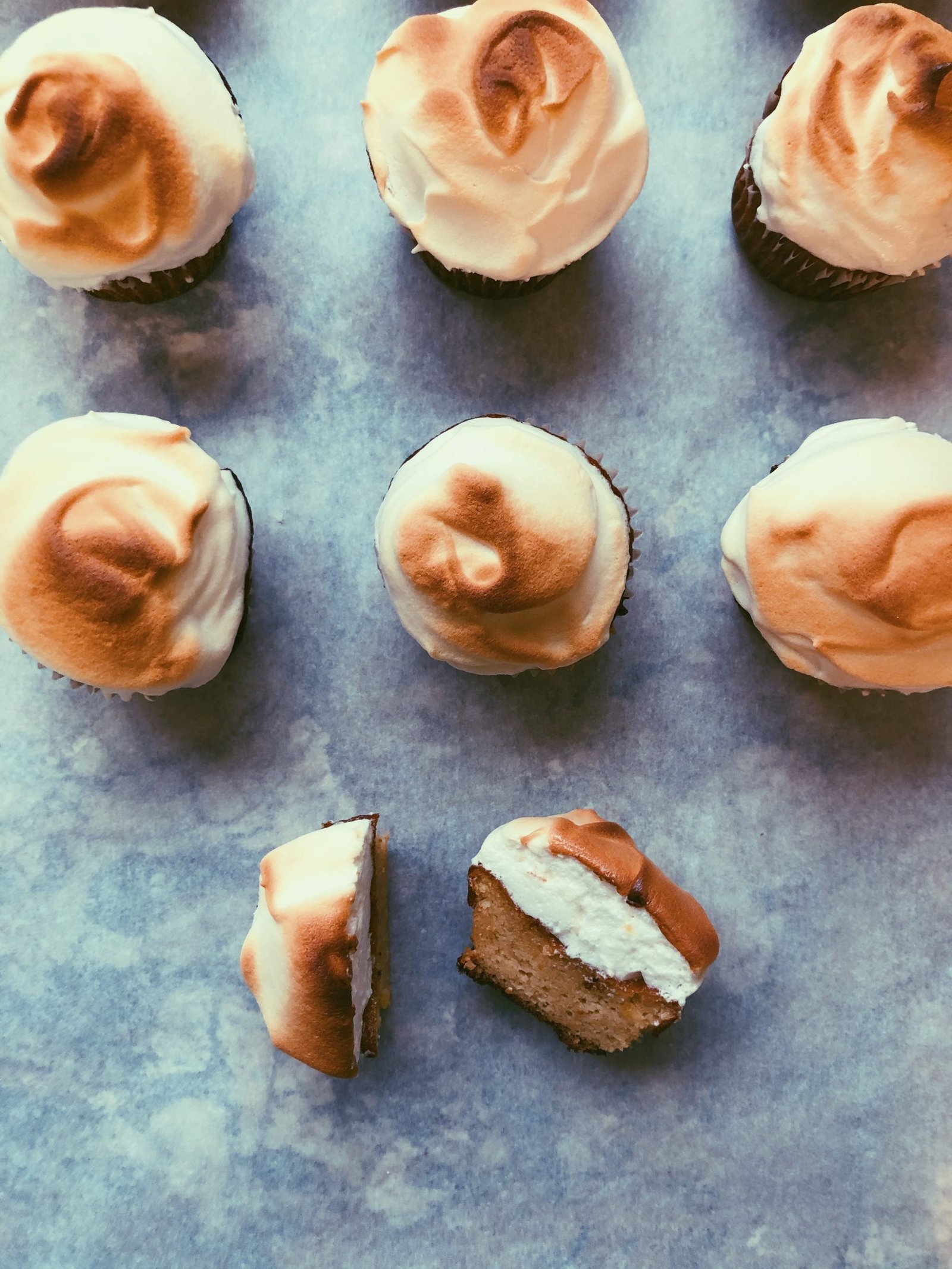 Key lime is one of my favourite flavours, and it was a highly-requested dessert item growing up, although it was mostly reserved for special occasions. SCD Life can often feel like it's a "special occasion" every day given just how much cooking and baking you have to do, from scratch, and thus, I really don't need to come up with any sort of fancy excuse or reason to make these delicious key lime cupcakes. "Monday" is often reason enough.
These cupcakes are made with the usual suspects when it comes to my ingredient lists: coconut flour, honey, grapeseed oil, baking soda and eggs make up the core, with the addition of lime juice and zest for that tangy flavour, as well as dry curd cottage cheese to create a more "pie"-like filling (but trust, it's still a cupcake!). If you can't find, or don't have, farmer's cheese you can sub in thick, 24-hour dripped SCD yogurt (or any thick, greek yogurt, if you're not SCD!). 
Despite appearances, these cupcakes are very easy to make, the only risky part is your meringue topping which can be easily go from "lightly toasted" to "burnt black" in a matter of seconds, so keep an eye on your oven when it comes time to place toast your meringue topping.
If you make these cupcakes, please comment below and let me know how it goes! I'd love to see a photo of your creation on Instagram, you can tag me @grainfreee. Most of all, enjoy the recipe below!!
key lime cupcakes: ingredients
1/2 cup of coconut flour

1/2 cup of honey

1/2 cup of grapeseed oil (sub coconut oil)

1/3 cup of packed dry curd cottage cheese (aka farmer's cheese) (sub dripped/thick greek-style yogurt)

1/3 cup of fresh squeezed lime juice

1 tsp of lime zest

1 tsp of baking soda

3 eggs
key lime cupcakes: how to
start by mixing your dry ingredients together in a medium-sized bowl, before adding in your wet ingredients, and combining well.

spoon the cupcake batter into a prepared muffin tin, lined with parchment paper cups.

bake the crust at 350 for 25 minutes, remove from oven and set aside/allow to cool as you prepare your meringue in the following steps.
key lime meringue: ingredients
3 egg whites
1/3 cup of honey
1/2 tsp of pure vanilla extract
key lime meringue: how to
whisk your egg whites using a hand mixer or stand mixer, forming stiff peaks.
drizzle in the honey and vanilla extract, as you mix the egg whites, and continue mixing until stiff peaks form.
once the stiff peaks have formed, stop blending and remove from the stand mixer and set aside.
the meringue can be piled on as high you'd like on top of the cooled down cupcakes. use a spatula and place it gently on each cupcake, piling high.
for a golden brown meringue, place the cupcakes under the broiler on low for 2-4 minutes max. be very careful if you're using the broiler so as not to burn the meringue, which can happen in an instant!! (to the best of us!!)
allow to cool.
these cupcakes are best served immediately! they will keep in the fridge for a few days, and while they do freeze, I don't necessarily recommend it, if you can avoid it, these are always best served (and enjoyed!) fresh.