GRAIN FREE CINNAMON ROLLS
these cinnamon rolls are made with a mix of coconut flour and almond flour, and they have a sweet and gooey cinnamon filling made without any refined sugar.
Cinnamon rolls always make a decadent and seemingly extravagant dessert or breakfast item– yes, cinnamon rolls for breakfast is completely acceptable, especially on the SCD diet (/perhaps even more so). I can't remember the last time I had a warm cinnamon roll, but these grain free, gluten free and SCD legal ones really hit the cinnamon roll-spot despite the fact that they are not really cinnamon rolls. By that I mean, these aren't gluten-like fluffy dough-type of cinnamon rolls you'd get at a Cinnabon or something (or perhaps those are referred to as cinnamon buns??? What is the difference, anyways? I probably should have googled this but now I am not going to, so lemme just leave the topic altogether…these are cinnamon rolls…). 
No, these are not cinnamon rolls made with gluten and yeast and white sugar. These are cinnamon rolls, healthified as much as you can healthify a cinnamon roll (!)– these are made with a mix of coconut flour and almond flour (but more coconut flour than almond flour) as well as my favourite SCD baking secret, dry curd cottage cheese. I love using dry curd cottage cheese aka farmer's cheese in a lot of my baked goods simply because of the texture and consistency it helps to give these items. You can usually swap it out for thick, 24-hour dripped SCD yogurt, as it cannot always be easy to find dry curd cottage cheese (but also: whenever I find DCCC, I stock the f up, you can always freeze it especially if you're just using it for baking– it will get crumbly ish when you first defrost it but that really doesn't matter if you're baking). Sidenote re: dripped SCD yogurt swap for THIS particular recipe I haven't yet tried it, but I will be doing it asap/next week, so just stay tuned if you want to wait a week and find out the conclusion — but typically, there are no issues with doing this swap in most baked good recipes!! (At least mine).
Of course, you need a delicious, ooey gooey cinnamon-y interior to call anything a cinnamon roll, and so that is exactly what you find inside each layer of this roll. After you make your dough, when it's all rolled out and ready, you'll be slathering this cinnamon filling across it, reaching every end possible. From there, it's a matter of rolling this bad boy up, and then slicing off 3 cm-size chunks. 
While these cinnamon rolls may look fancy, they are not too difficult to make. Optionally, you can always do a coconut butter glaze or icing to top them and up the level of sweetness– but they're just as good without the glaze. You could even just eat one warm with a little bit of butter if you don't want to do a glaze or icing, and it would be so delicious.
These were so good, they didn't last very long. My boyfriend gave his full sign of approval by devouring two at a time. However if you don't eat them quickly enough (you're crazy) (but also) you could definitely freeze these without any icing or glaze, and when you go to eat them, then prepare the glaze for them.
I hope you love these, and if you do make them, definitely tag me on Instagram so I can see! @Grainfreee.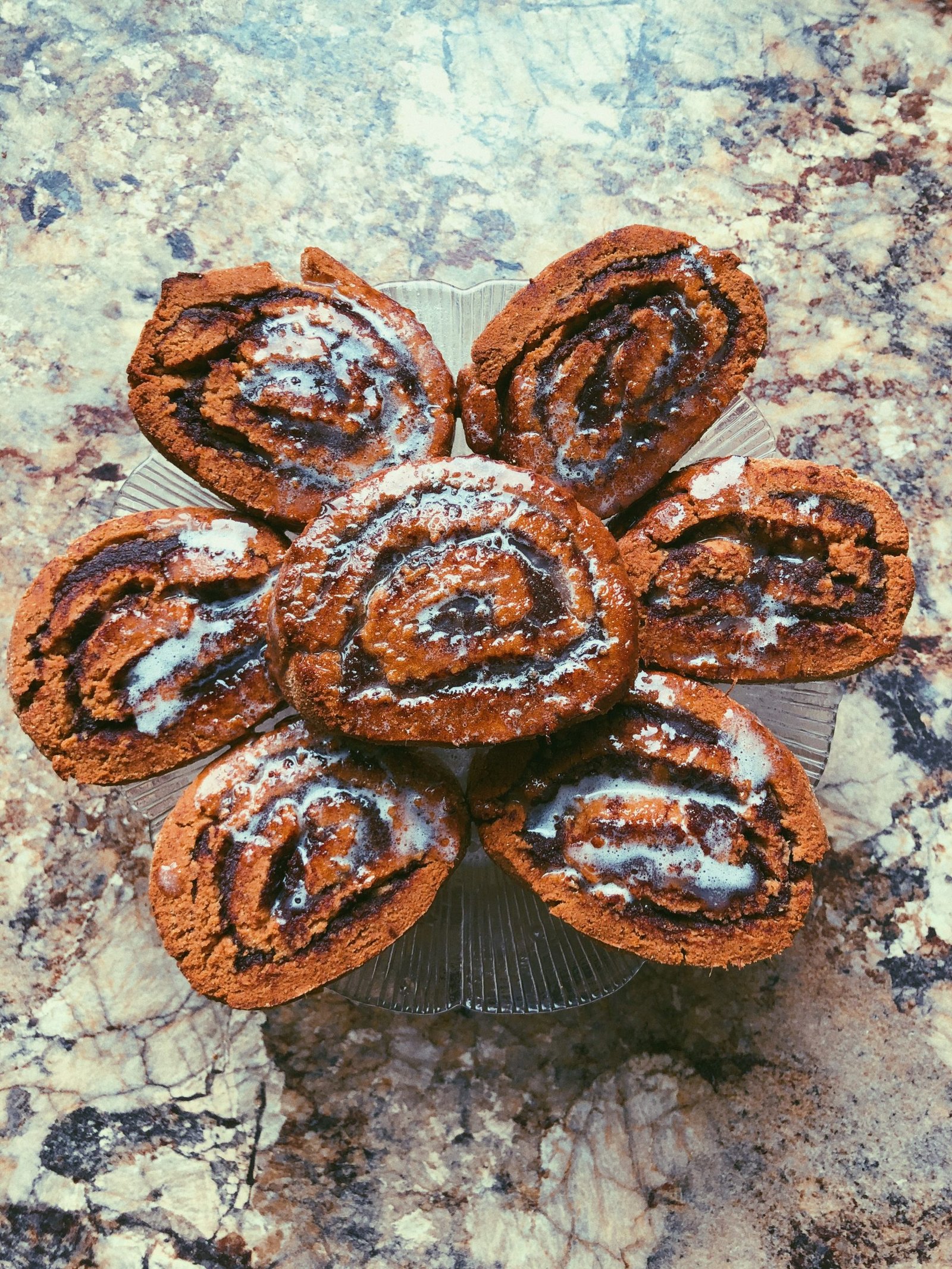 CINNAMON ROLL DOUGH INGREDIENTS
3/4 cup of coconut flour
1/2 cup of almond flour
1/3 cup of dry curd cottage cheese (aka farmer's cheese)
1/2 cup of butter
1/2 cup of honey
1 tsp of pure vanilla extract
1 tsp of baking soda
3 eggs
CINNAMON ROLL DOUGH HOW TO
blend the coconut flour, almond flour and baking soda together in a food processor, and once mixed, blend in your dry curd cottage cheese and blend again.

add in the wet ingredients, and mix in the food processor until well combined.

remove from the food processor and shape the batter together in one log. wrap in parchment paper and freeze for at least 2 hour hours. it doesn't get very solid but it should be cold.
CINNAMON ROLL FILLING INGREDIENTS
6 dates, softened and pitted (if you need to soften the dates, you can simmer them in hot water for 5 mins or so)
1 tbsp of water (you can use the water you simmered the dates in)
2+1/2 tbsp of cinnamon
1/2 tsp of ground ginger
2 tbsp of honey
1 tbsp of grapeseed oil (or butter/ghee butter)
CINNAMON ROLL FILLING HOW TO
clean the food processor to use again for the cinnamon filling.

place everything in the food processor and blend until it's a smooth texture. if it's not smooth and there are still date pieces, continue to blend– you can add a little bit of water if needed.

set aside until the dough is ready.
MAKE YOUR CINNAMON ROLLS!
once everything is prepared and the dough is cold, remove it from the freezer.
you'll want to use a lot of coconut flour for dusting here, to avoid as much sticking as possible because i will warn you, this dough is very sticky. however if you dust the surface of a piece of parchment paper (on which you'll be rolling out the dough into one big sheet), and use coconut flour to dust your fingers etc., it is possible to manipulate. just keep a bit of coconut flour in a little dish to use for dusting as you go.
dust a piece of parchment paper with coconut flour, and place the dough on it, using the piece you had it wrapped in to cover the top of the dough.
use a rolling pin atop the parchment paper to roll out the dough into a sheet about 1 cm in thickness.
remove the top layer of parchment paper and take your cinnamon filling, and spread it evenly across the piece of dough, bringing it to each edge. 
now begin to roll up the dough into a log. FYI: feel free to sprinkle extra cinnamon across it before you roll up and as you roll up– i did! as much as you please.
once it's rolled up, cut the log into 3 cm size chunks, and place them evenly on a parchment paper-lined baking tray. it makes approximately 11 cinnamon rolls.
bake in a preheated oven at 350 for 30-35 minutes, until they're golden brown.
remove from oven and top with icing (optional) using the recipe below (you do not need to allow them to cool with the icing, it'll melt and become glaze-like)– best served warm but also delicious cold! 
1 can of refrigerated coconut milk (cold)
1/8 cup of honey
1 tsp of pure vanilla extract
take out the solid chunk of coconut milk from the can, and put it in a small bowl. save the liquid for another use (store in a mason jar in the fridge).
place the honey in the bowl and using a handheld or stand mixer, blend with the vanilla extract until it's creamy and soft.
spread across each cinnamon roll. you can also melt some of the icing and then drizzle it on top of the cinnamon rolls (which is what i ended up doing, but i saved some icing on the side to slather on top of them too).