THE EASIEST & MOST DELICIOUS FALL-APART BLADE ROAST
this is my go-to roast recipe. i keep it simple and delicious with carrots, onions and a blade roast.
Finally. My favourite and laziest way of making a pot roast. Funnily enough, "pot roast" was not a thing I had a lot of growing up, the words were not common in my house, and so I honestly didn't even really know what a pot roast entailed, meat-wise– I wouldn't have been able tell you. In my adult and cooking-on-my-own years, I eventually discovered the chuck roast and the blade roast cut of beef (it took getting into the SCD diet though — when you start a whole/real foods-based diet you get introduced to a ton of different cuts of meats that you simply never knew what to do with/never knew existed. That's me with a blade roast!). 
So yeah, basically, randomly bought this cut of meat one day and then I had to figure out what to do with it! I did my Googles, and so I learned that this is often what a pot roast is made from. Nonetheless I am referring to this recipe as a blade roast, because it is a blade roast (!), and it's probably less traditional "pot roast" in terms of its look and approach, because, lazy.  Nonetheless it's got that comfort food, heart-warming factor to it, as all good pot roasts should!!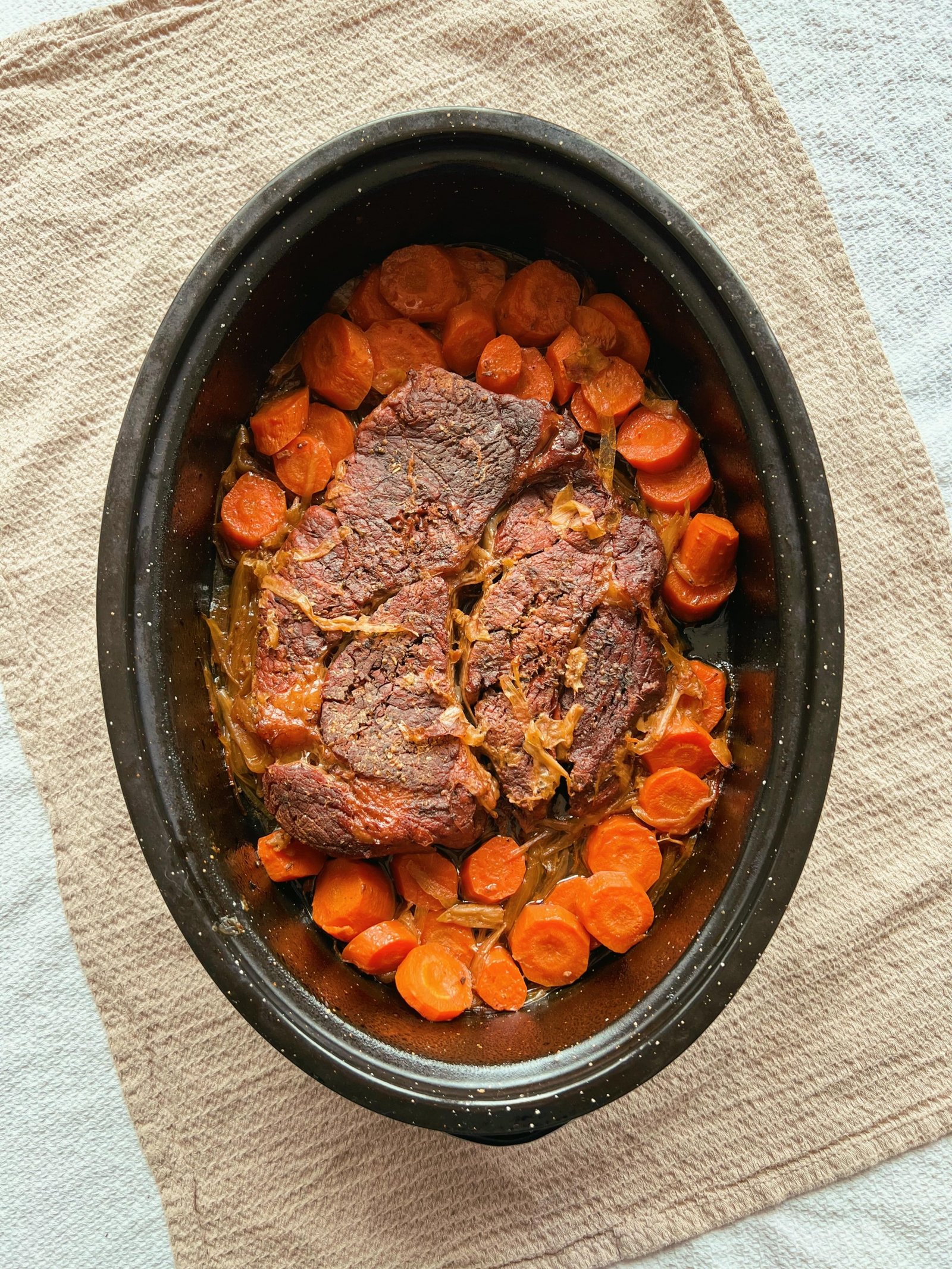 Ok, so now we know how I eventually found the blade roast, and did some research as far as the best way to cook it, it's taken me a few years to actually write down my own method. I've made this roast so many times, but every time I would change it slightly, try a new spice or herb, try roasting less or more. I've finally got the cooking time and ingredient list figured it out so I don't need to experiment each time and I am wholly satisfied that it's perfect to share with everyone. 
My preferred method for roasting a blade roast like this, is, to first hit with the high heat and then roast it low and slow. Now traditionally/most of the time, a recipe for a blade roast or chuck roast may have you sear it on all sides/edges on medium-high heat in a cast iron pan, before transferring to your roasting dish. Alas, I am lazy. And thus, I do things right in the roasting pan, makes it easier and less mess to clean up after too. Win-win.
So basically, you'll crank the heat up to 425 F before putting your blade roast in (spiced with an extremely basic but-all-you-really-need dry rub) with a bit of water, and roast it for 35-40 minutes. That'll get one side nice and crispy on the outside, which is our ultimate goal, while the inside remains tender and fall-apart. After the high heat, you'll turn down the temperature and thus the waiting game (aka slow roasting) begins. I highly recommend making this on a Sunday, or whatever day you happen to be home all day.
I love to add carrots and red onions to the roasting pan, the onions get caramelized with the meat and the carrots also get plenty of meat juices for phenomenal flavour. You can certainly swap in your own sides, if you tolerate potatoes or other root veggies you want to serve with your roast, simply bake them alongside the roast, just make sure you don't put them in with the roast too early as they'll get over cooked and thus soggy. Wait at least 2 hours before adding your veggies. 
Find the full recipe and instructions for this lazy person's delicious blade roast below, and drop me a comment or leave a rating if you do try the recipe! 
A few more recipes if you're looking for some delicious dinner ideas:
the easiest fall-apart blade roast: ingredients
2-2.5 lb boneless blade roast (sub in a chuck roast)
1 tsp salt
1 tsp dried basil
pepper to taste
3 cloves of garlic, minced
2 tbsp toasted sesame seed oil (sub in extra virgin olive oil)
1 cup water or preferred stock
1 small red onion
3-4 carrots, sliced lengthwise and in half i also love using nantes carrots
the easiest fall-apart blade roast: how to
start by preparing your veggies, slice up your carrots and onions and set them aside.
now, mix your spices together, and rub the spice mix evenly across your blade roast.
place the sliced onions at the bottom of a roasting pan, and add the blade roast, keeping in mind you will also be adding carrots around the roast later. add the minced garlic to the top, and 1/2 cup of the water/stock (save other 1/2 for later), toasted sesame seed oil.
in a preheated oven at 425, place your blade roast in the roasting pan, uncovered, and roast for 40 minutes, uncovered
after 40 minutes, turn down the temperature on the oven to 300, remove the roast from the oven to add the remaining 1/2 cup of water or stock, and return to the oven, this time covered, roasting for an hour.
after the first hour is up, remove the roast again, add in your carrots, and you can also choose to add more liquid if it is getting low or dry – you want enough liquid so it hits the bottom-third of the roast. place the roast back in the oven, for another hour, covered.
after the second hour is up, remove the roast from the oven to flip it over to allow the other side to get crispy on the outside. return to oven for an hour and a half, after which, it should be fall-apart tender; a knife or fork will easily cut through and even shred it. if you find it is not tender enough, simply throw it back in for 30 more mins or so, until it reaches preferred fall-apartness!
serve warm with cauliflower rice and the roasted carrots/onions in the pan.
It's worth noting, you can totally throw this blade roast in your slow cooker for 7-8 hours on low or 4 hours on high.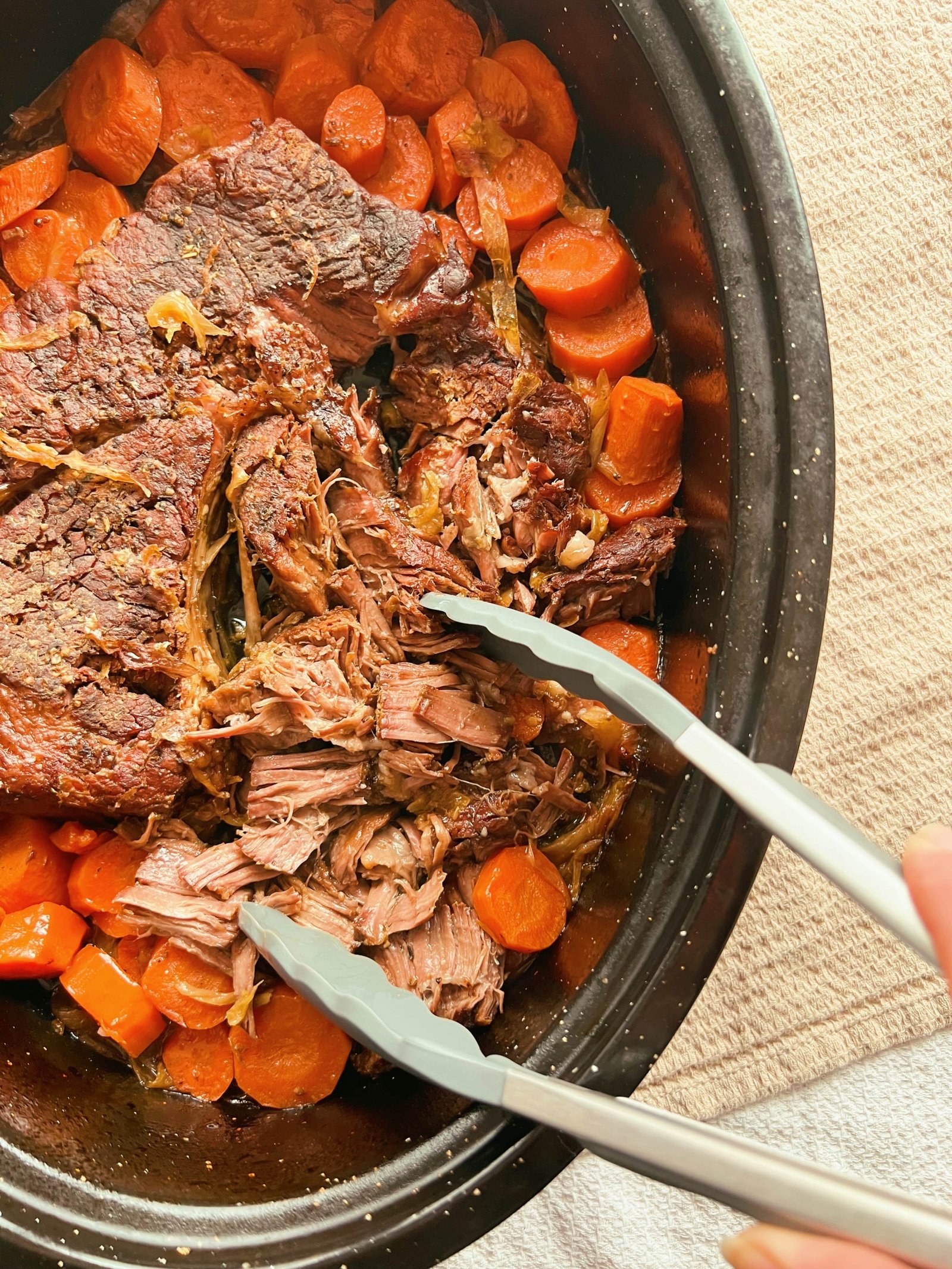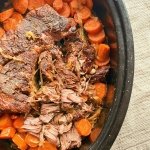 Print Recipe
the easiest fall-apart blade roast
this is my go-to roast recipe. i keep it simple and delicious with carrots, onions and a blade roast.
Ingredients
2-2.5

lb

boneless blade roast

sub in a chuck roast

1

tsp

salt

1

tsp

dried basil

pepper to taste

3

cloves of garlic, minced

2

tbsp

toasted sesame seed oil

sub extra virgin olive oil

1

cup

water or preferred stock

1

small red onion, sliced

3-5

carrots, chopped

i also love using nantes carrots
Instructions
start by preparing your veggies, slice up your carrots and onions and set them aside.

now, mix your spices together, and rub the spice mix evenly across your blade roast.

place the sliced onions at the bottom of a roasting pan, and add the blade roast, keeping in mind you will also be adding carrots around the roast later. add the minced garlic to the top, and 1/2 cup of the water/stock (save other 1/2 for later), toasted sesame seed oil.

in a preheated oven at 425, place your blade roast in the roasting pan, uncovered, and roast for 40 minutes, uncovered

after 40 minutes, turn down the temperature on the oven to 300, remove the roast from the oven to add the remaining 1/2 cup of water or stock, and return to the oven, this time covered, roasting for an hour.

after the first hour is up, remove the roast again, add in your carrots, and you can also choose to add more liquid if it is getting low or dry - you want enough liquid so it hits the bottom-third of the roast. place the roast back in the oven, for another hour, covered.

after the second hour is up, remove the roast from the oven to flip it over to allow the other side to get crispy on the outside. return to oven for an hour and a half, after which, it should be fall-apart tender; a knife or fork will easily cut through and even shred it. if you find it is not tender enough, simply throw it back in for 30 more mins or so, until it reaches preferred fall-apartness!

serve warm with cauliflower rice and the roasted carrots/onions in the pan.

(It's worth noting, you can totally throw this blade roast in your slow cooker for 7-8 hours on low or 4 hours on high)