BAKED BUTTERNUT SQUASH PASTA
this makeshift pasta dish doesn't contain any "pasta" at all, it's more in the lasagna family, but for the days when you don't have any dripped yogurt or DCCC available.
Who doesn't love pasta? For real. If you don't love pasta well…I don't know you. Pasta is one of the most comforting dishes out there. It's that whole combination of carb-y noodles, cheese, meat and marinara sauce. If you're gluten free or grain free there are plenty of pasta alternatives out there, that aren't made with wheat. However there's also another option to get your pasta fix, and that is by way of squash. 
Butternut squash is just one of the many squashes you can use to replace your favourite pasta noodles– spaghetti squash, of course, is another great option depending on the type of pasta dish you seek to make. I definitely think this butternut squash baked pasta recipe could easily be swapped in for a spaghetti squash, with equally delicious results.
This particular dish is one step shy from being a full-on lasagna, and that's mostly because at the time I made it, I did not have any dry curd cottage cheese on hand. Dry curd cottage cheese, or farmer's cheese/pressed cottage cheese as it's sometimes referred to, is often an SCD diet staple, however it can also be quite tricky to find depending where you live or what grocery stores you shop at. I've never been able to find at a regular ol' super market, but I've had luck buying it at Costco and certain health food stores. That being said, it's not necessarily an item I always have on hand. 
I was craving something lasagna-esque, and really, what's better than a dish that's baked in cheese, ground beef, and tomato sauce? You can hardly go wrong there. I threw in some slices of butternut squash, and voila, here we are. Baked butternut squash "pasta."
This dish is easy to make, and checks the "hearty" and "comforting" boxes when it comes to food. If you have picky eaters, the butternut squash is a vegetable easily masked by the tastiness of the ground beef, tomato sauce and cheese. It's amazing how well it works, really.
I used a mix of parmesan and old white cheddar, both of which are SCD legal. Mozzarella isn't legal on the SCD diet, however if you're not on SCD, by all means throw in a little mozzarella too. The more cheese, the merrier, that's what they say…Right.
You'll need some tomato sauce on hand for this, or else you'll need to whip up a batch — I'm not that crazy, so I just purchase an SCD legal brand of organic, real tomato sauce with very minimal ingredients and nothing artificial (and especially no sugar added!! You'd be surprised. Or perhaps you wouldn't, if you're here, you probably know all about the sneaky sugar additives to canned/jarred foods). Besides for that, you'll of course need your cheese, ground beef, 1 butternut squash and some fresh basil.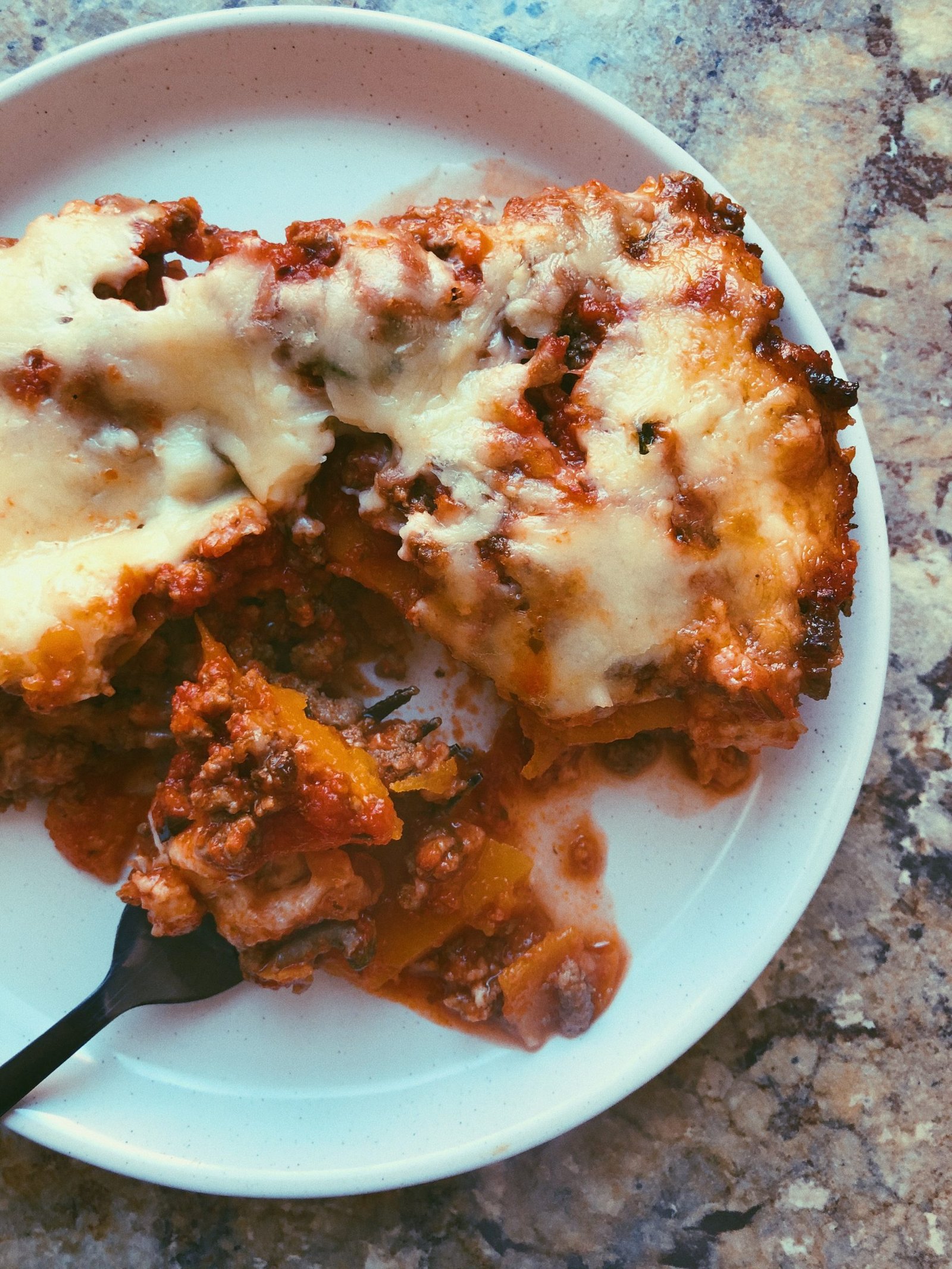 BAKED BUTTERNUT SQUASH PASTA INGREDIENTS
1 small to medium-sized butternut squash
1 lb of ground beef approx
1/2 cup of shredded parmesan cheese
1 + 1/2 cups of shredded old cheddar cheese
1 tbsp of fresh basil, chopped
salt and pepper to taste
1 + 1/2 cup of tomato sauce
BAKED BUTTERNUT SQUASH PASTA HOW TO
sautee the ground beef with chopped up basil, salt and pepper to taste,until cooked.
while beef is cooking, peel the outer skin off your butternut squash (you can use a regular vegetable peeler to do this), and cut off the bottom half of it, setting it aside for another use (I tend to make fries out of the bottom half).
thinly slice the elongated top half off the butternut squash into sheets as best you can – you'll want approximately four sheets.
shred your parmesan and cheddar cheeses.
once the ground beef is finished, prepare your baked butternut squash pasta:
in a oven-safe baking dish, coat a thin layer of tomato sauce, then add a layer of butternut squash slices, a layer of ground beef mixed with some of the tomato sauce, a layer of cheese. repeat once more, starting with a layer of butternut squash directly this time, ground beef & tomato sauce, and finally, as much cheese as you have remaining sprinkled on top.
bake in the oven at 350 for 40-45 minutes, until cheese is bubbling.