GRAIN FREE RASPBERRY BREAKFAST COOKIES
these are grain free cookies-meet-scones-meet-muffins, and they make the perfect breakfast treat or dessert item.
Often times on the SCD diet, breakfast doubles as dessert (and vice versa). Such is the case with these cookies I've devised. Honestly, I was thinking at the outset that they would be scones, however the Baking Gods had other plans for me, and they turned out to be more so a mix between a cookie and muffin and a scone. But is that not the best of both/all worlds??? These taste light and fluffy, they're soft naturally but you can crisp them up by throwing one in the toaster oven for a few minutes before you want to eat it, which definitely makes it all that more enjoyable to eat with your morning coffee. Like many SCD baked goods, they're best stored in the fridge as well, which undoubtedly will help them keep their firmness too.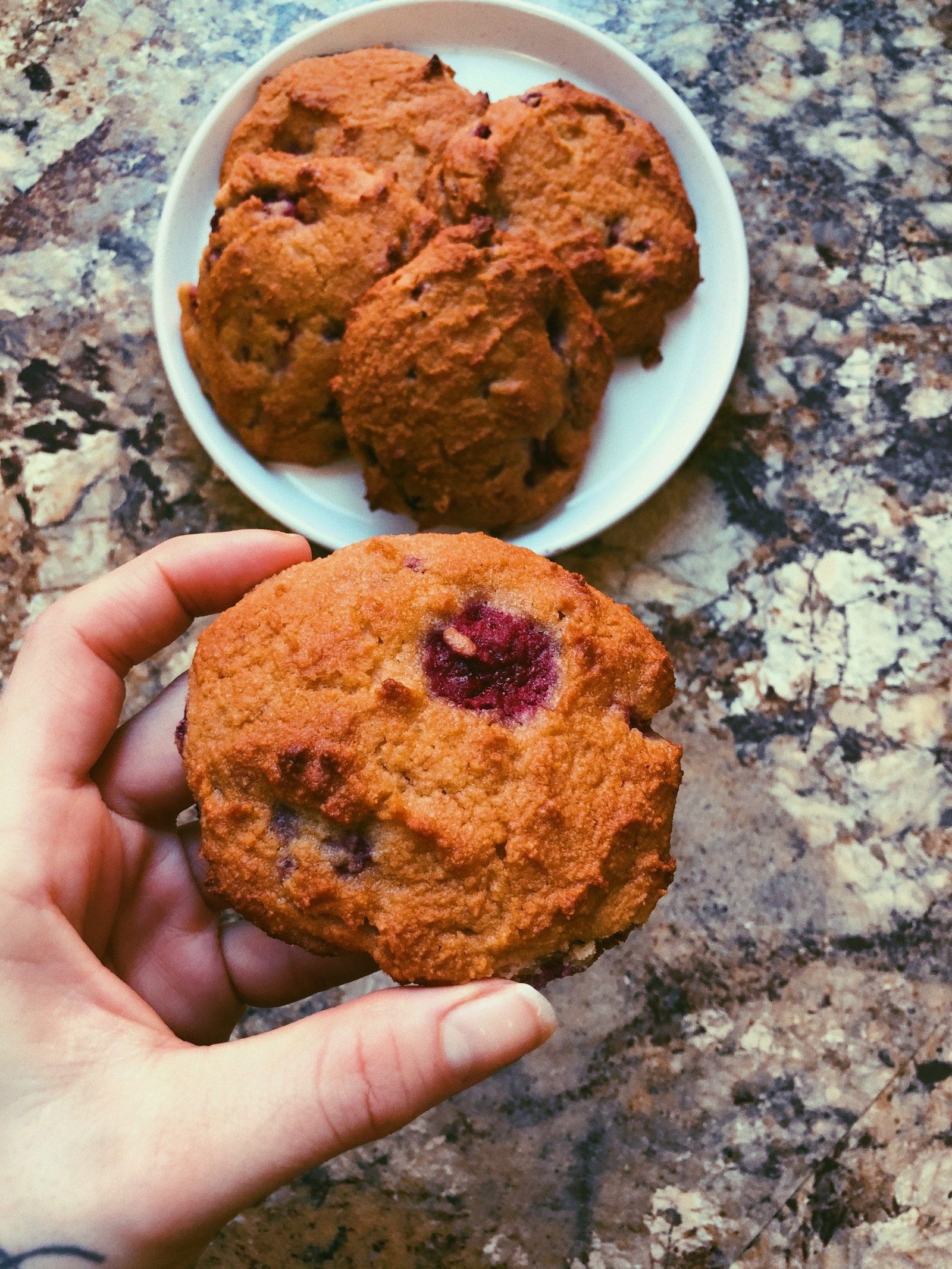 I used frozen raspberries to make these raspberry breakfast cookies, although I imagine fresh would be just as good, and equally, you could throw out the raspberries altogether and opt for another berry of your choosing: I will try blackberries and strawberries down the line. You could even get crazy and try mixing in an assortment of all three berries (!) but I digress.
These call for almond flour, I've grown fond of using almond flour for treats such as scones and cookies, however I've found coconut flour best for cakes and muffins. The reason being, that almond flour has a certain denseness to it that I do not find best for muffins which can sometimes already be dense– you can lighten them up by using coconut flour. 
Whether you love berries or just want to try something new to bring into your breakfast rotation, definitely give these a try and tag me/let me know on Instagram if you do! @Grainfreee.
GRAIN FREE RASPBERRY BREAKFAST COOKIES INGREDIENTS
1 + 1/2 cup of almond flour
1/2 cup of dripped SCD yogurt
3 tbsp of honey
1/2 tsp of baking soda
1 tsp of vanilla extact
1 egg
1 tbsp of butter
1/2 cup of fresh or frozen strawberries
GRAIN FREE RASPBERRY BREAKFAST COOKIES HOW TO
blend all your ingredients except for the raspberries in the food processor, or mix well by hand.
once everything is well combined, fold in your raspberries gently.
scoop out the batter onto a parchment paper-lined baking tray, in desired size– i made 8 rather large cookies, but you can opt to make them smaller and make more.
bake at 350 for 30 mins or so. keep an eye so as not to burn them!