GRAIN FREE CARAMEL MACADAMIA COOKIE CAKE SKILLET
it's a cookie, it's a cake, it's a skillet, it's grain free, it's refined sugar free...i mean what more could you ask for?! oh yeah, it's also loaded with macadamia nuts and caramel.
You guys, this was my first cookie cake skillet and I am in love. I don't know why I didn't try this sooner, but it's definitely amazing and also, why is it just so much more fun to bake in a cast iron skillet than on a boring ol' baking tray???  That's really half the magic here. That being said, I'm not trying to shame any of my non-skillet-users. If you don't own a cast iron skillet or perhaps don't like using a cast iron skillet (who are you??? ok ok, no shame!) then you could definitely use a baking tray to make this cookie cake, just shape it into a circle or a square by hand, the world is your oyster. The batter is pretty firm and will be easy enough to manipulate on a baking tray as well.
Oh let's spend a second talking about this batter: it really is a mix of everything, and the result is an optimal cookie-cake consistency. It's definitely in between both, it's thicker than your typical cookie, but not quite as thick or fluffy as a cake would be, rather more like a cookie in its soft-and-chewy and a bit more dense consistency. You'll need almond flour, coconut flour and nut butter(s)– I opted for peanut butter and almond butter, but if you don't have both or your nut butter selection is different altogether, you can easily sub in whatever nut butter you have on hand to equal out the full measurement. Macadamia nuts could also be easily subbed out for chocolate chips if you tolerate chocolate, or any other preferred nut– pecans would probably be my top pick as an alternate nut add-in. You could also omit the nuts entirely if you want and just go in on the caramel sauce.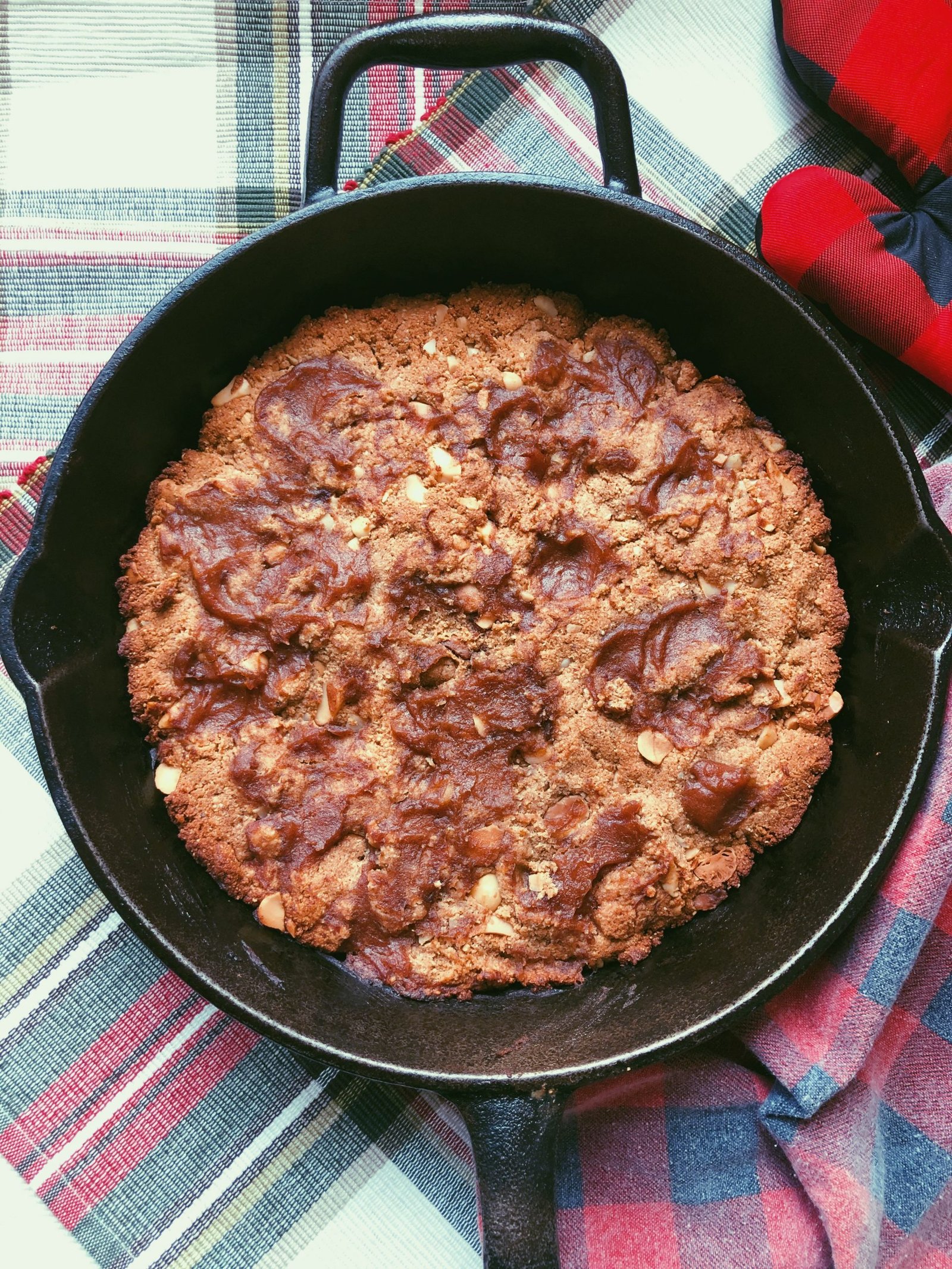 The caramel sauce is also my new favourite obsession, if you've been keeping tabs on my new recipes as of late (as you definitely should be), you'll notice I used this caramel recipe for my grain free "sugar pie" cookies. 
It's just so freaking good! I had to bust it out again for this over-the-top cookie cake skillet. You can make the caramel a bit in advance to have this entire process go a lot faster, and you can freeze any leftovers for future baking and cooking needs. I like to mix some raw nuts with some of the leftover caramel and roast those in the oven (or on the stove-top in your cast iron skillet…sorry not sorry) and you have yourself a decadent snack. 
Find the recipe below, and tag me on IG if you make this cookie cake skillet! I'd love to see how it turns out. Find me @grainfreee.
Cookie cake skillet:
1 cup almond flour
1/4 cup of coconut flour
1/2 tsp of baking soda
1 tsp of pure vanilla extract
1 egg
1/4 cup of almond butter
1/4 cup of peanut butter (or sub any nut butter)
1/2 tsp cinnamon
3 tbsp of honey
2 tbsp of grapeseed oil
1/2 cup of chopped, lightly toasted macadamia nuts (or sub chocolate chips or pecans)
Caramel:
1/2 cup of hazelnut milk
6 medjool dates, softened and pitted
1/4 tsp of pure vanilla extract
Dash of salt
First, prepare your caramel:
If the medjool dates are not yet softened, soak them in boiling hot water for 10-30 mins. Proceed to blend in a food processor the pitted dates with the milk, vanilla extract and pinch of salt until it's smooth and well combined. Set aside.
Next, prepare your cookie cake skillet
Mix your cookie ingredients, starting with the dry and adding in the wet ingredients, in one large bowl. 

Add in the lightly roasted and chopped macadamia nuts at the end– you can roast the nuts in the oven at 350 for 10 minutes if they're not yet roasted.

Once the cookie cake ingredients are combined well, grease your cast iron skillet well with extra grapeseed oil or coconut oil.

Spoon the cookie batter into the greased cast iron skillet and push it to the edges of the skillet. 

Take your caramel, and make a little dents within the cookie cake to place pockets of caramel. It won't be very thick so these won't be large 'holes' but rather just places for you to add your dollops of caramel, as much as you please. You won't need to use all the caramel, keep approximately half to the side for serving alongside the cookie cake (optional).
bake at 350 for 25 mins. remove from oven and allow to cool before slicing, and serving with an extra dollop of caramel (feel free to warm it up and serve it with some warm, ooey gooey caramel, or alternately, you can eat it cold out of the fridge and freezer!).
store in fridge or freezer. If you don't use all the caramel, you can freeze it to use in baked goods or serve it on top of any cookies or cakes you make!