GRAIN FREE GINGERBREAD CUPCAKES WITH CASHEW "BUTTERCREAM" FROSTING
cupcakes with a ginger-full-flavour and topped with a thick, buttercream-inspired frosting that's actually made out of cashews, SCD yogurt and coconut milk.
Okay these cupcakes may be a mouthful (in terms of their title) but also, they're a MOUTH-FULL of delicious. See what I did there???
In all seriousness (or semi-seriousness, because I'm not really all that serious ever), I made these cupcakes specifically to feel festive. Get in that gingerbread spirit you know? And these really hit the spot. They're perfectly moist, gingerbread cupcakes and you can definitely taste that ginger– although feel free to load it up further if you're superrr into ginger. I added two teaspoons which was more than enough for my palette. 
To really make these a rich and decadent treat, however, I had to come up with a frosting that I could pile on thick. And ouueeyyy is it thick. Thick af, some might be inclined to say. Or, as the kids say.
This cashew buttercream frosting was inspired by the Minimalist Baker, who has a recipe for the same type of icing, however mine has been tweaked and prodded at ever so slightly, so I'll include my version below. The frosting is definitely sweet, although you can opt for less honey if you want something a bit less sweet. It's pretty divine though.
That being said, I'm not gunna lie, you will end up with a lot of frosting. Perhaps too much. But then again, is there such thing??? While I will leave such philosophical questions aside for another time, I do want to say that if you are like me and find yourself with a heaping scoop of leftover frosting, well, don't fret– simply drop it into a freezer-safe airtight container and wait for those Christmas cookies to come out of the oven and lookin' in need of frosting. Or perhaps those gingerbread cookies!! Ohh. See what I did there. I am on a roll today.
I will also be delivering a shortbread (SCD legal of course) cookie recipe soon, as well as gingerbread cookies, so you may want to use any leftover icing for those recipes if you don't already have your cookies for the holidays all planned out. And if you do, then who are you!?! (Jokes, you go girl!)
To complete these cute cupcakes, I decorated them ever so slightly with a sprinkle of cinnamon. I'm not really a fan of a plane, iced cupcake, it always seems to be missing something– and being on the SCD diet, sprinkles are out of the question. I think cinnamon looks cute, but you could also try a few sprinkles of desiccated coconut for something all-white and snow-esque.
Grab the recipe for these gingerbread cupcakes with cashew buttercream frosting below, and tag me on IG @grainfreee if you make them! I'd love to see!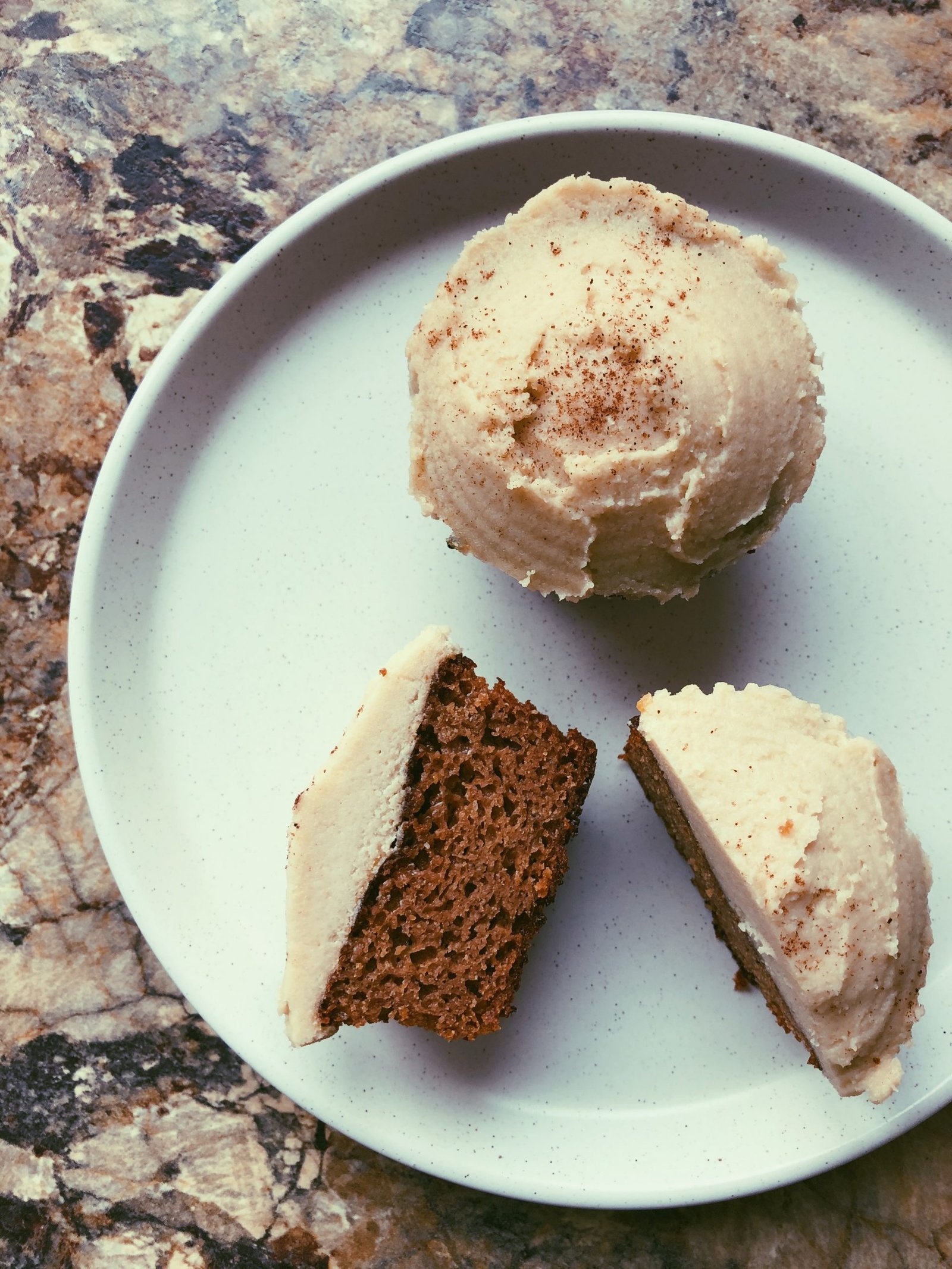 gingerbread cupcakes: ingredients
Gingerbread Cupcakes
1/2 cup of coconut flour

1/2 cup of dripped SCD yogurt (thick, greek-style yogurt)

1/3 cup of grapeseed oil (sub melted coconut oil)

1/2 cup of honey

2 tsp of ginger

1  tsp of cinnamon

1/4 tsp of cardamom

1/4 tsp of nutmeg

1 tsp of baking soda

3 eggs
Cashew Buttercream frosting (optional)
1 cup of cashews, soaked 
1/4 cup of SCD yogurt
1/4 cup of coconut milk or cream
4 tbsp of coconut butter
4 tbsp of honey
1 tbsp of pure vanilla extract
gingerbread cupcakes: how to
Gingerbread cupcakes
Start by preparing your cupcakes. Add the coconut flour to a large mixing bowl, and add in all your spices and baking soda, mixing well.
Continue by adding in your wet ingredients, mixing as you go, ending with the eggs.
Allow the batter to sit and absorb for a few minute before scooping it into a parchment cup-lined muffin tray. Fill the muffins 3/4 way full, you should have approx 10 cupcakes.
Bake the cupcakes at 350 for 25 minutes. Remove from the oven and allow to cool completely before icing– ideally, even place them in the fridge to make them cold before icing.
Cashew buttercream frosting
Soak your cashews overnight in water, or else you can soak them in boiling hot water for 30 mins to an hour. Once they're soaked and soft, drain them, and place them all in the food processor.
Now add the rest of the ingredients to the food processor, and blend or pulse on high.
It will need to blend until it's extremely smooth– you may want to scrape down the sides as you go. It'll take a good 10-15 minutes.
Once it seems well combined, smooth and you cannot see little pieces of cashews, remove the lid from the processor, cover in aluminum foil and place in the freezer. Alternately, you can take the whole mixture out of the food processor and transfer to a small bowl before storing in the freezer.
Freeze for an hour, and then remove and mix again. I repeated this twice, but once is probably is enough!
Once you've re-mixed it, place it back in the freezer, and wait 2-3 hours before spreading the frosting on each cupcake. The frosting will be thick and a bit hard, but it will soften up quickly.
Make sure the cupcakes are cold when you ice them as well, for better (and easier) results. With the frosting, you'll want to mix it around again before you ice, creating a thick but spreadable and creamy frosting with it. If it becomes to soft in the process, simply pop it back in the freezer for a bit.
Ice each cupcake with a heaping pile of frosting, and sprinkle a touch of cinnamon across the top.
Store the cupcakes in the fridge or freezer. The frosting will soften at room temperature, but will remain firm in the fridge. It's delicious either way, but don't leave these cupcakes at room temperature unless it's before you're about to eat it!