GRAIN FREE CHICKEN POT PIE
this is a classic chicken pot pie, both hearty and heartwarming, with a grain free pie crust on top.
Tis the season. For cold weather and heartwarming dishes. As the temperatures continue to drop here in Montreal, I've been in the mood for nothing but warm dishes– (cold) salads are not cutting it for me right now, I need the hearty and healthy meals that are piping hot, like this chicken pot pie, or my mac and cheese. Or anything with the word "baked" and/or the word "pasta" in it (and my form of pasta is always grain free and SCD, meaning, it's probably some sort of butternut squash).
Before making this SCD legal, chicken pot pie, I don't think I had ever actually made my own chicken pot pie. It's a dish I've always loved and enjoyed, there is just something innately comforting about a chicken pot pie. So I was so pleased with the way this one turned out. The flavour is delicious, I almost want to make this again but even without any crust at all– just a sort of chicken and veggie mix in a broth. Soooo good.
For my chicken pot pie recipe, I opted to make a pie crust for the top of the dish, but I did not put any crust on the bottom. Personally, I find the dough on the top to be enough, because it is denser than your typical pie crust, because after all, it is grain free– and grain free baked goods do have a more dense nature to them. That being said, the chicken pot pie is the perfect balance of pie crust and a tasty chicken filling.
I had cubed my chicken  breasts and pre-cooked the pieces in a cast iron, with a little bit of paprika, salt, pepper and oregano before I added it to the chicken pot pie dish, so if you do have the chance to give your chicken breasts a little bit of spice love while you cook it beforehand, I definitely recommend it, as it does add to the overall flavour of the dish! But nonetheless, even without doing that and keeping your chicken breasts plain, you'll find this dish has more than enough flavour– in its simplicity. 
I also diverted from the norm with my inclusion of white button mushrooms instead of peas. While peas are SCD legal, personally, I've never got around to liking them all that much, and I love mushrooms, so I just went for a quick veggie swap in that regard. If you want to make a more traditional chicken pot pies with peas and all, go for it, simply omit the mushrooms and swap your peas into the recipe below.
This chicken pot pie is so freaking yummy, I'll definitely be making it every single winter, fall, and perhaps even summer if the feeling is right! If you try this recipe, please let me know in the comments or on IG @grainfreee. I'd love to know how it turned out.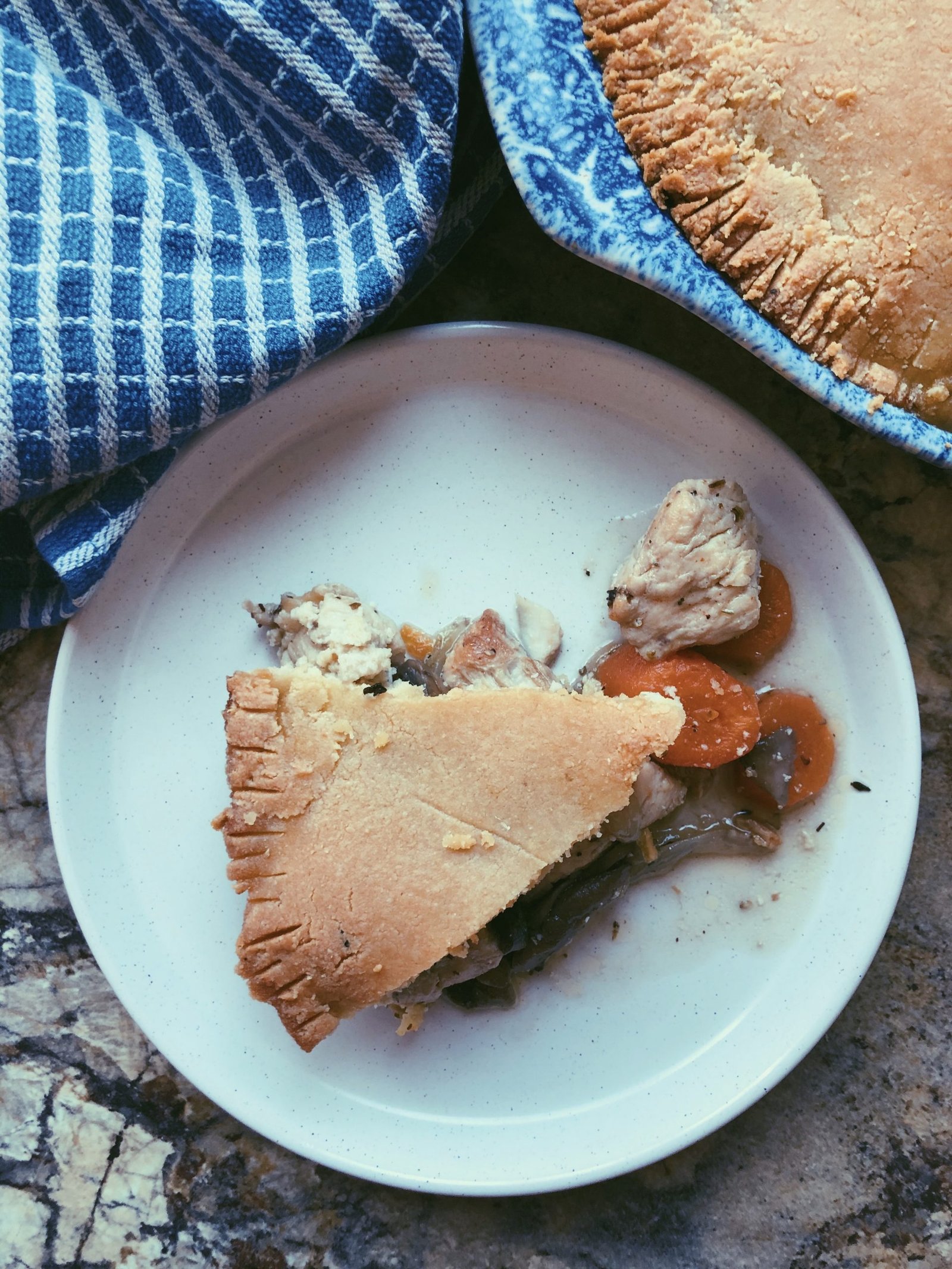 grain free chicken pot pie: ingredients
Filling:
1 lb of chicken breasts, cubed and cooked 4 dante carrots, diced and blanched (place in boiling pot of water and boil for 5 mins to soften)
227 g of mushrooms (1 small package), diced 
1/2 large red onion or 1 small, diced

1/4 cup of butter

1 + 3/4 cup chicken broth
1/2 tsp thyme
1/2 tsp oregano
salt & pepper to taste
4 scoops of collagen great lakes
Crust:
1 + 1/2 cup of almond flour

1/4 cup of coconut flour
3 tbsp of melted butter or ghee
1 tsp of salt and dash pepper
fresh oregano chopped (optional)
2 eggs
grain free chicken pot pie: how to
Filling:
melt the butter in large skillet or saucepan over medium heat.
add onions and salt, pepper and sauté for 5 mins.
add mushrooms, and continue to cook until mushrooms are softened/translucent. Then add your chicken broth, and collagen.
turn up the heat and bring mixture to a boil. turn down the heat, and allow to simmer for 5-10 mins.
add in the chicken, thyme, and oregano and allow to simmer for 5-10 more mins before finally adding the carrots.
transfer to pie dish.
Crust:
mix the dry ingredients, add in the wet ingredients, in a large mixing bowl.
form into a ball and place the dough in the freezer for 30 mins before you roll out dough, to help with manipulating it on to your pie dish.
once the dough is firm and cold, roll it out between two pieces of parchment paper on the counter. you want to roll it out so it is approximately the shape of your pie dish, give or take. you want it to be approx a 1/2 inch or 1/4 inch in thickness.
carefully remove the top layer of parchment paper once the dough is rolled out and take the bottom layer of parchment paper carefully underneath both hands. now you'll want to basically flip the parchment paper so the parchment paper side faces you, and the crust side is on top of the pie dish – from there, you'll remove the parchment paper layer and shape your crust on your chicken pot pie dish.
once the crust is loosely placed atop the chicken pot pie dish, you can begin to press the crust down around the edges, and remove the extra bits — I keep them to the side so I can do any quick patch-ups to my pie crust if any holes or tears happen along the way!
once the crust is pressed down along the edges of the pie dish, you can use a knife to create little indentations around the side of the pie crust and create a little decoration– i did a few lines– in the middle of the pie crust.
bake at 350 in a preheated oven for 45 mins.