GRAIN FREE PUMPKIN CAKE WITH VANILLA FROSTING
this pumpkin cake is the perfect fall treat, with an optional but worth-it creamcheese-inspired vanilla frosting.
We're officially a week out from Halloween– incidentally, my birthday– so it's safe to say I have never been averse to anything Halloween-inspired and fall-inspired, and in fact, it is my favourite season. 
The pumpkin flavoured-treats are still running rampant in my kitchen this week, including these amazing pumpkin cake that has a delicious SCD yogurt-approved (meaning, it's made from SCD yogurt) frosting to go along with it. These could also be referred to as a "pumpkin bars" in the sense that I do bake it in a square baking dish, and slice them and serve them as individual bars, but really, I find the texture of these to be more cake-like than anything else, and who doesn't love a good pumpkin cake when the leaves are all turning red and orange? 
That being said, you can cook this pumpkin cake in a more traditional or circular baking pan if you prefer, you could probably even make two small round cakes out of it to layer on top of each other, perhaps filling it with the vanilla frosting in between the two cakes and on top — I'll have to test that out myself next time!!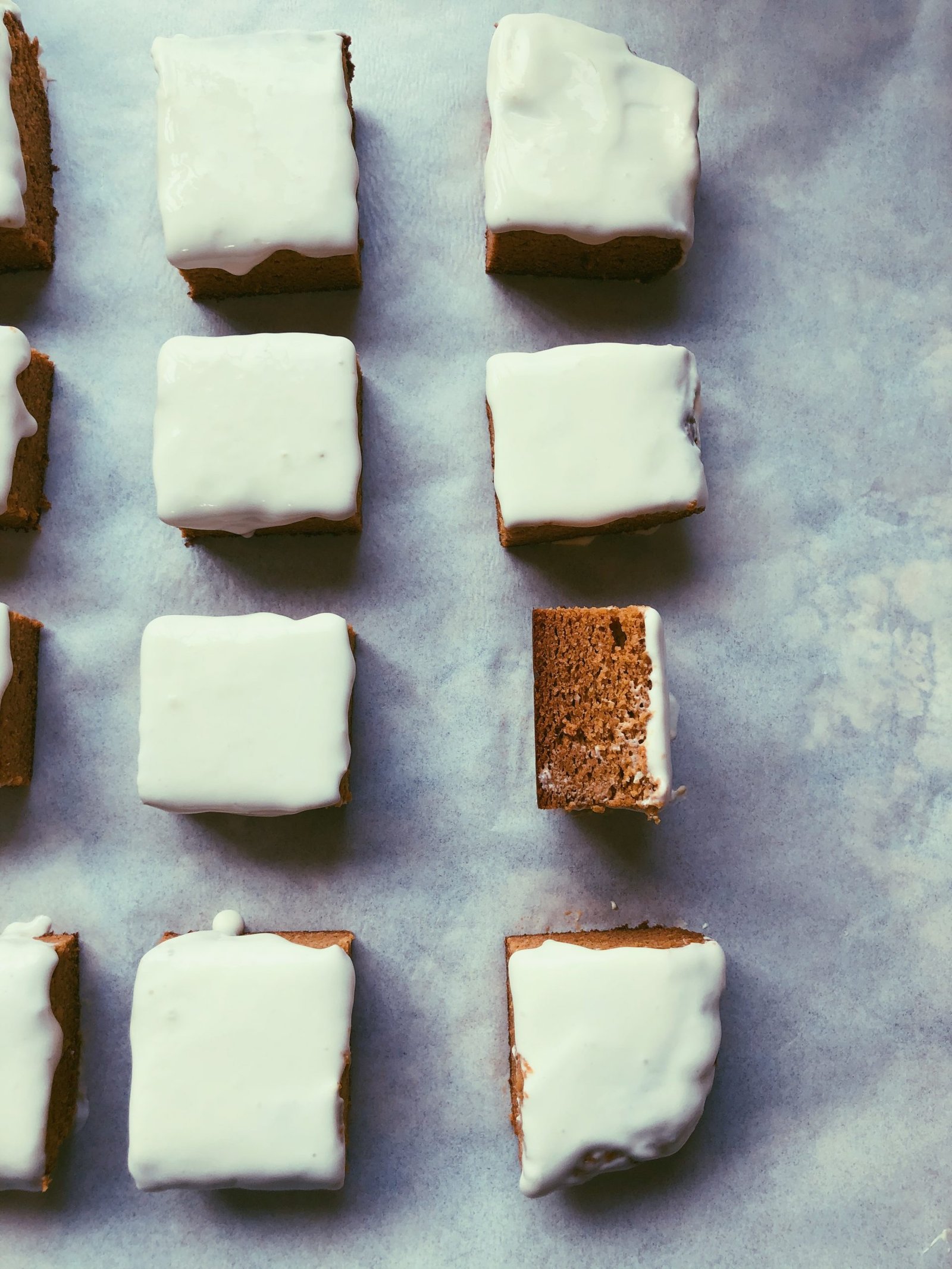 What else can I say about these other than the fact that they are SO GOOD? They call for 1 cup of fresh pumpkin puree– you can use fresh butternut squash puree in its place, and you could sub in canned pumpkin puree too. The puree is blended with the coconut flour, where it's able to absorb the flour and create this light, fluffy and moist consistency that perfectly fits into the "cake" umbrella. I also add plenty of fall-inspired spices (you know the usual: cinnamon, ginger, nutmeg and cardamom), but you can feel free to experiment more or less with the additions of those spices, depending on your personal preference.
Finally, let's talk about the vanilla frosting briefly. It's not your traditional frosting, of course, it is SCD legal and made with 24-hour dripped SCD yogurt. I did not sub in farmer's cheese (dry curd cottage cheese), but typically this sub would work perfectly if you don't have dripped yogurt. Essentially, you just want the yogurt to be very thick, greek-style, and dense, with the liquid drained from it. You'll blend the yogurt with honey and vanilla and throw it in the freezer for a couple of hours to create this amazing thick and creamy icing to spread across your cake.
Grab the recipe below, and let me know if you make this pumpkin cake by tagging my on Instagram @grainfreee.
pumpkin cake with vanilla frosting: ingredients
Pumpkin Cake
1 cup of fresh pumpkin or butternut squash puree
1/2 cup of coconut flour
1/3 cup of honey
1/3 cup of coconut oil
1 tsp of cinnamon
1/2 tsp of ginger
1/4 tsp of nutmeg
1/4 tsp of cardamom
1 tsp of baking soda
3 eggs
Vanilla Frosting
1/2 cup – 1 cup of dripped SCD yogurt (if you want to do two small layered cakes, opt for 1 cup as you'll require more icing)
2 tbsp of honey
1 tsp of pure vanilla extract
pumpkin cake with vanilla frosting: ingredients
Pumpkin Cake
blend dry ingredients in the food processor, add in your wet ingredients and blend well.
spoon the batter into a square 8 x 8-inch (approx) baking dish or one 8-inch cake tin (or, you can also use two small 6 inch cake tins for a layered cake), lined with parchment paper. 
bake at 350 for 30-35 minutes, and allow to cool completely before icing (store in fridge or freezer in the meantime).
Vanilla Icing
blend your dripped yogurt with the honey and vanilla extract. You can mix this by hand or in the food processor, however if it becomes too whipped it'll get a bit liquid-y. Fear not, if this happens, simply pop the icing into the freezer (in a freezer-safe-bowl) for an hour or two and it'll thicken right back up.
spread the thickened, cold icing across the cake and cut up into squares, as desired. return the cake to the fridge or freezer for storage– it actually stores best in the freezer and is also fantastic frozen! The icing will become hard, like a frozen yogurt-esque topping. In the fridge, the icing will stay softer. Either way it's delicious!