NO-POTATO SQUASH LATKES (GRAIN FREE, SCD)
these homemade latkes are made without any potatoes or grains, and they are fantastic.
I've always loved latkes, and the time of year that accompanies the traditional Jewish dish. Latkes = Channukah. You know the drill. And it was always such a big to-do whenever my mom would make latkes too, it wasn't necessarily an easy feat. But she always killed it. And I've also had my fair share of store-bought or restaurant-made latkes, however I find those ones were often too thick, too much flour perhaps. Now that I am all grown up (shout out me), if I want to eat latkes to celebrate Channukah (or just because I freaking love them), I've got to make them myself! 
This year, I was on mission to make a true-looking latke that was still grain free and SCD legal. And oh my gooodnessss was this a success!! 
I made these on my IG stories (so if you're not following me on IG yet, here you go), and I honestly wasn't sure what to expect because I was pretty much winging the recipe as I went. But lemme just repeat myself: oh my goooodnessss was this a success!!
Now, there is one thing to be ware of if you want to make the recipe as is: you will need to hunt down a seemingly very rare (Thank You Based God) potato squash. Yes, there is a squash called "potato squash," and no, it doesn't contain any potato. It's an oddly-shaped squash that has the colour of a potato, a very white-yellow colour, which is why it's so perfect to make-pretend as a potato and thus become a latke.
These squashes, masquerading as potatoes, are also sometimes known as "mashed potato squashes". I will include a photo of my potato squash below for your reference– some may have a butternut squash-coloured skin, and some may have a fully white skin. Either way, they are a very versatile squash, especially if you are on SCD and can't eat potatoes — you can sub these in as french fries, mashed potatoes, the list goes on.
Now that I've spent so much time on the potato squash, if you CANNOT find one, please don't stress! You can easily make this exact recipe using butternut squash– and probably any other squash, for that matter– but I would recommend butternut. Your latkes may look a bit more orange in that case, but the taste will still be AMAZING. These are so delicious, and you don't really need to do much, besides adding a bit of salt and tons of oil (for frying, though).
Find the recipe below. I hope these make your Channukah table this year! If you do try the recipe, please let me know on IG @grainfreee.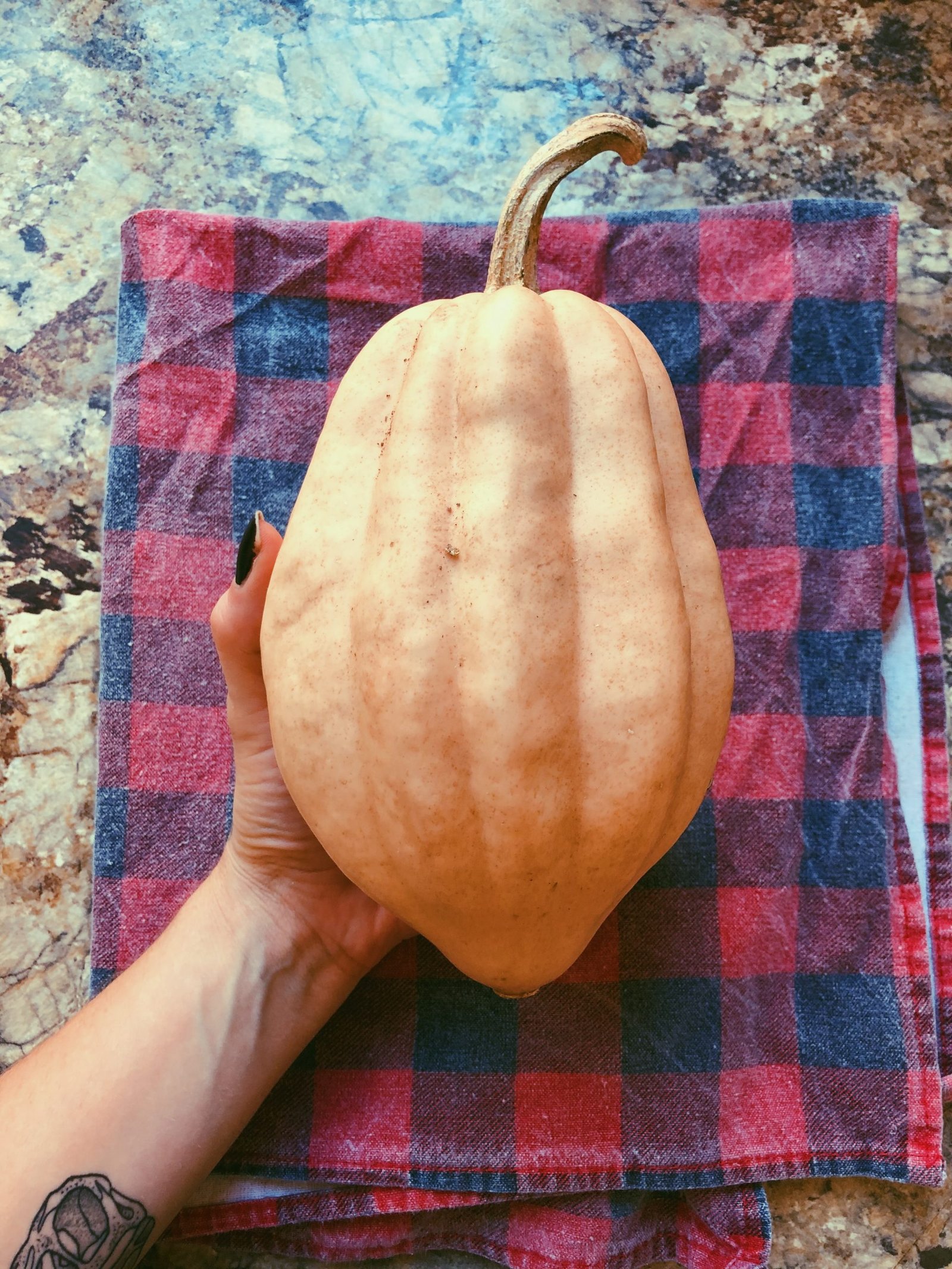 4 cups of shredded potato squash (or sub butternut squash)
1/4 cup of diced red onion
1/2 tsp of salt
4 eggs, whisked
extra virgin olive oil for frying (don't measure, just pile it on the pan)
Mix all your ingredients together, finishing with the whisked eggs, and combining well.
Heat up a few tbsp of extra virgin olive oil in a cast iron pan – you want the pan to be covered in a thin layer of oil.
Allow the pan and oil to get hot, and using 1/4 cup, scoop the latke mixture into the frying pan.
Pat down the scoop gently if it's a bit raised, and allow to cook for 4-5 minutes before flipping at medium heat. keep an eye until the outer edges look slightly browned.
Flip and repeat with all the batter. i fit three latkes per pan, for a total of 15 latkes.