PUMPKIN CHEESECAKE SWIRL CUPCAKES (GRAIN FREE)
these cupcakes are grain free, gluten free, and festive for fall or otherwise. they're bursting with pumpkin flavour, complimented by the sweet cheese of the cheesecake swirl.
Fall is my favourite season. That, admittedly, partially has to do with it being  the season for Halloween, and partially due to it being the fact that my birthday is on Halloween. Beyond just the personal celebrations that come with the season, fall is my favourite season because of the weather it brings. I live in Montreal, Quebec, Canada so it's safe to say we experience all the seasons, in the truest sense of each. Winter is winter af. Fall is fall af. You get the idea. Fall though, is that little bit of buffer before winter becomes "winter af" and it's so cold you can see your breath practically crystallize in the air. You can still wear a light jacket, or many hoodies, you can wear a tuque or you can wear a scarf, or alternately, you can wear zero accessories at all, the world really is your oyster in the fall season. Okay let me just say one last factor that makes fall the best season ever: the colours, the trees, the foliage.
Now, moving on from fall and into fall things: pumpkin cheesecake swirl cupcakes!! Pumpkin flavour is here. The cheesecake bit was inspired by a random recipe my sister sent me, I had to mimic it SCD/grain free/gluten free/refined sugar free style.
If you happen to be here, and it's not fall, please fear not. You can still make (and eat/enjoy) these cupcakes, I promise.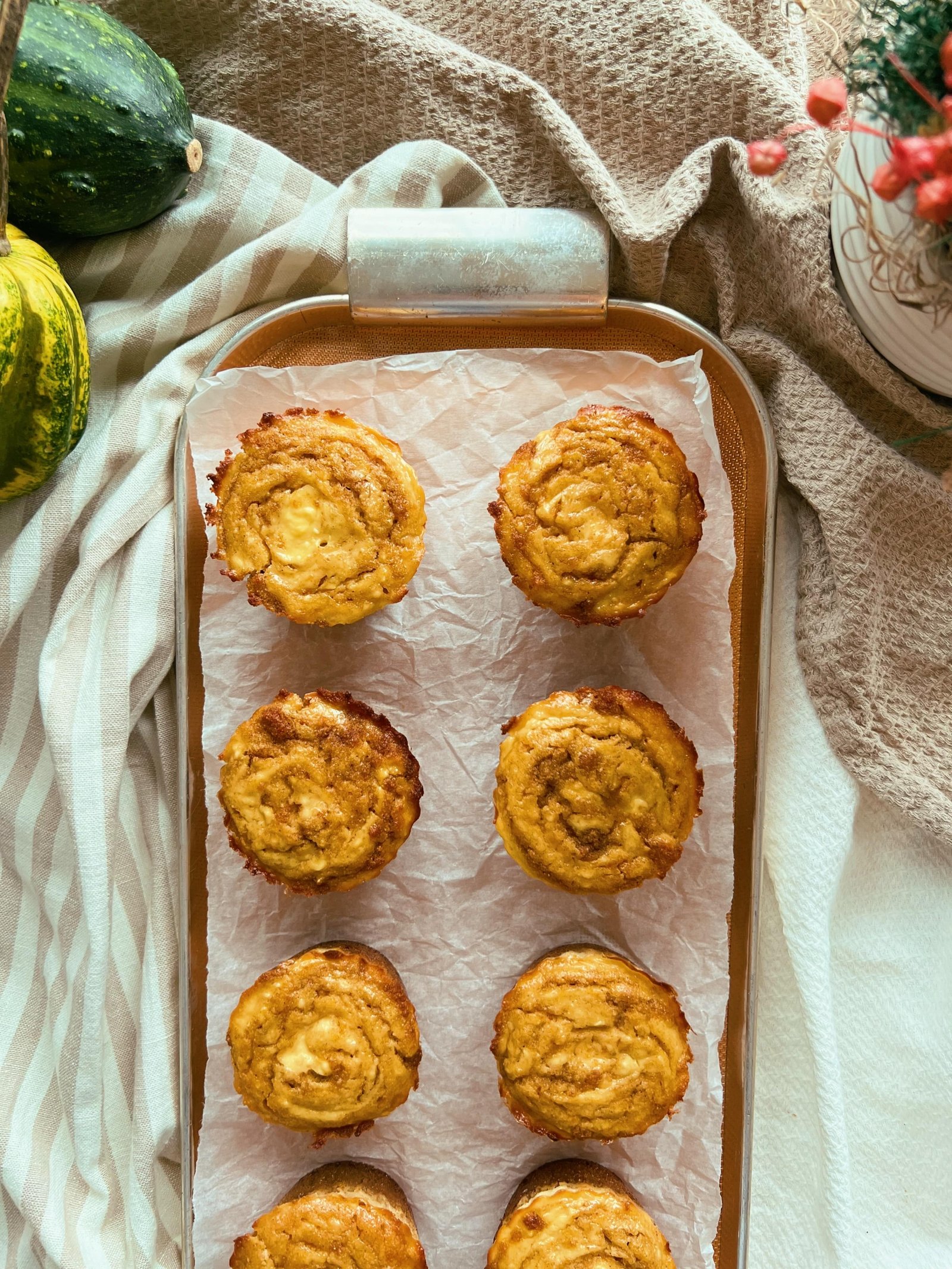 These little cupcakes are so delicious, with pumpkin puree going into the batter, alongside coconut flour, creating a fluffy yet still moist cupcake. The cheesecake filling is made with farmer's cheese, or dry curd cottage cheese– if you don't have any or can't find it, you can try subbing in thick, cream cheese-like yogurt (drained for 24 hours), and you should have the same results. The cheesecake batter is swirled into the top of each cupcake at the very end, about a tablespoon or so of it, creating a little swirl of white that looks so pretty, you won't want to cover it up in icing. Also– this cupcake doesn't really need any icing, with the sweet cheesecake filling sort of doing the trick in that department. That being said, you do you boo, and if you wanna pile on the icing after you make these, by all means go for it!
I'd love to see if you make these cupcakes, for Halloween or any other time of the year, they are such a treat. Tag me on IG if you make them! @grainfreee.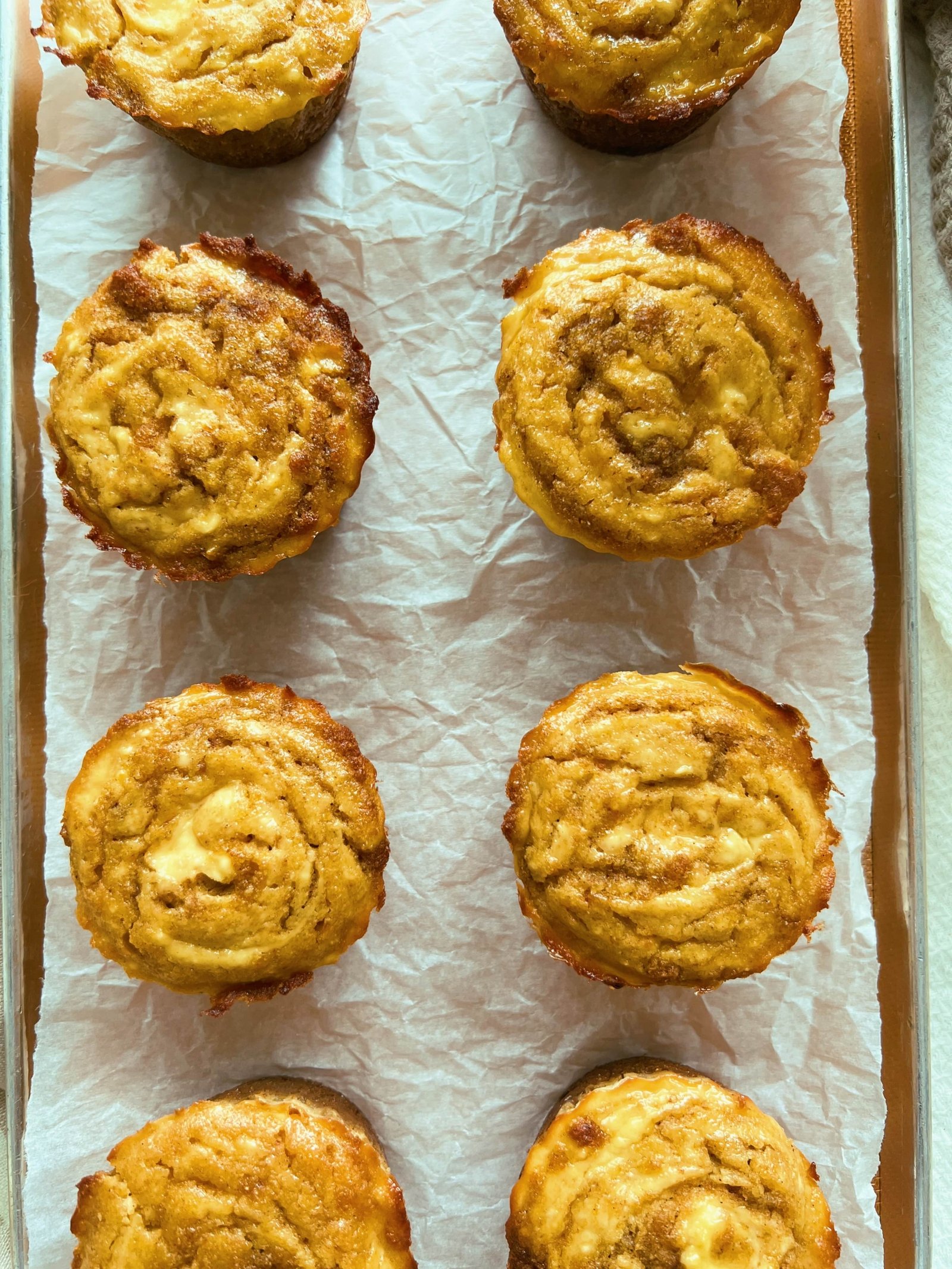 PUMPKIN CHEESECAKE SWIRL CUPCAKES: INGREDIENTS
Pumpkin cupcakes:
1/2 cup of coconut flour

1/2 cup of pumpkin puree

1/2 cup of coconut oil

1/2 cup of honey

5 eggs

1/2 tsp of baking soda

1/2 tsp of pure vanilla extract

1 tsp of cinnamon

1/2 tsp of nutmeg

1/4 tsp of ginger
Cheesecake filling:
1/2 cup of dry curd cottage cheese (aka farmer's cheese) (sub thick, greek yogurt or strained SCD yogurt)
1 tsp of pure vanilla extract
1 egg yolk
1 tbsp of honey (you can add 1 tbsp more if desired)
PUMPKIN CHEESECAKE SWIRL CUPCAKES: HOW TO
we'll start by preparing our pumpkin cupcake batter. in a food processor, you can begin by throwing together all your dry ingredients, then mixing in your pumpkin puree, oil, honey and finally eggs.

allow the coconut flour to absorb the ingredients, letting it sit for five minutes or so. then pour the batter into parchment paper-cups in a muffin tray. 

now you will need to quickly rinse off your food processor to re-use it for your cheesecake filling.
once rinsed off, place all your cheesecake filling ingredients directly in the food processor. combine well, it should become a smooth, thick and fluffy type of consistency.
using a tablespoon (feel free to add a bit more or a bit less depending on personal preference– there's enough cheesecake filling that you will have extra to work with), place a dollop of the cheesecake filling in the middle of each pumpkin cupcake.
swirl the cheesecake filling into the batter using a knife.
bake in preheated oven at 350 for 25-30 minutes. allow to cool before removing from the tray. enjoy warm, cold, or store in the freezer for longer shelf life, and just take one out at a time whenever you have a hankering.