TANGERINE CHAI COOKIES (GRAIN FREE, SCD DIET)
combining the flavours of tangerine and chai spice to create a warm cookie that's perfect for breakfast or dessert.
Chai spice does seem to signal the coming of fall, and so, although the timing works out perfectly to make these cookies (!) that's not actually why I decided to devise this recipe. I simply had an abundance of tangerines, they've been a good price at the local grocery store so I just keep re-upping on them, which has led me to want to experiment with a few tangerine-inspired recipes. It all comes down to my tangerine-buying obsession.
As far as the combining the chai with the tangerine flavour, there's something about it that just works, the seemingly opposing flavours contrasting each other in the best way, creating an earthy yet still sweet cookie that could be served for breakfast just as much as it could accompany tea for dessert.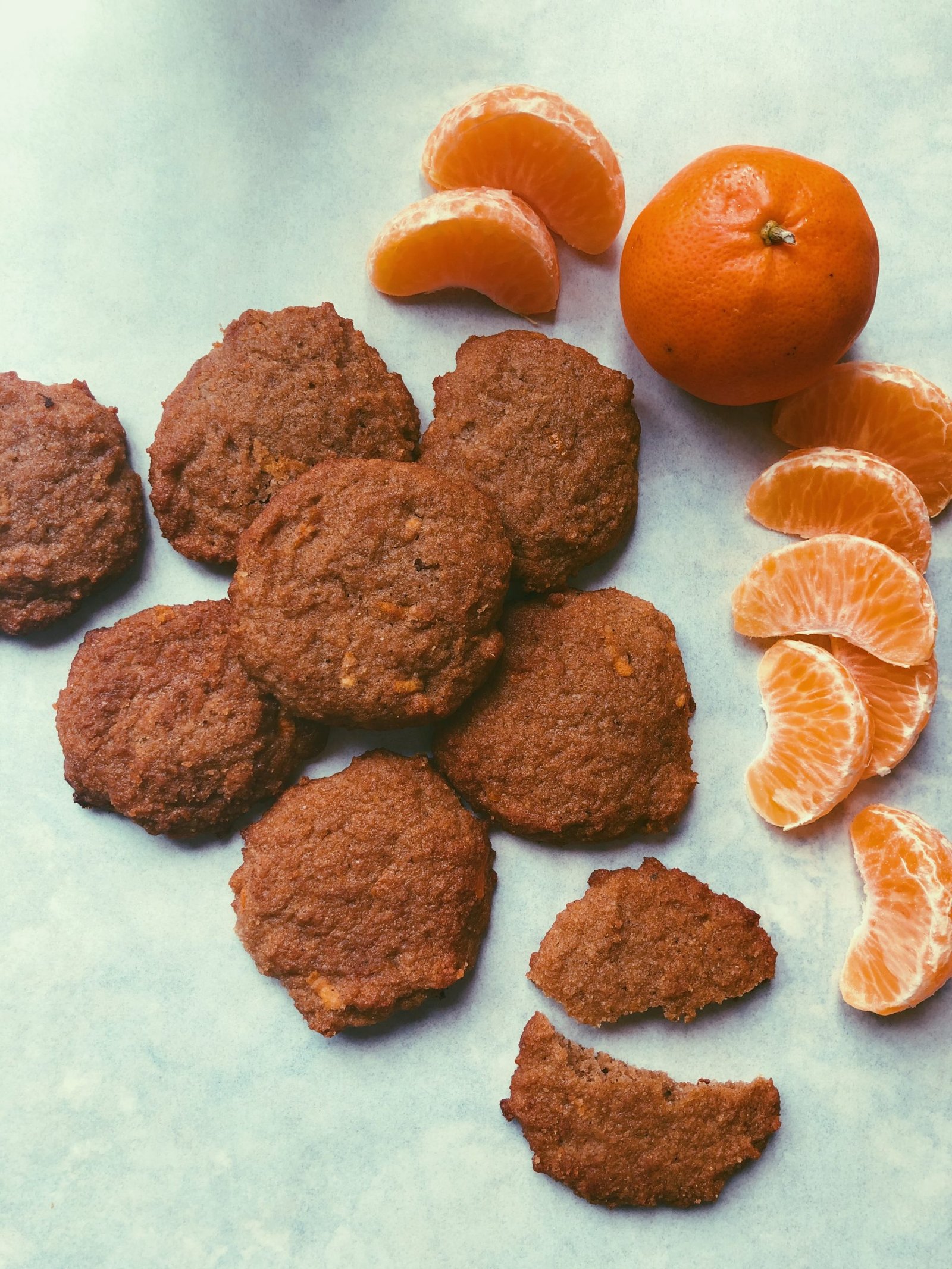 To create a perfectly soft and chewy cookie, I opted to use almond flour, and while I only used one cup, creating about 12 cookies, you could easily double this recipe if you want to prepare a larger quantity and/or freeze some for later. 
The cookies call for fresh tangerine, for both the zest and the juice, although you could sub in orange or mandarin if you'd like to similar result. The chai flavour is created using your typical line-up of spices: ginger, cardamom, cinnamon, and allspice. If you want to sub in a pre-mixed chai spice seasoning, you could always do that as well. 
These cookies are beyond easy to make and clean-up, requiring only one bowl and they will be hot out of the oven in 12 minutes. What I'm saying is, there really is no reason not to make these cookies!
I'd love to know if you make them– tag me on Instagram with your creation @grainfreee.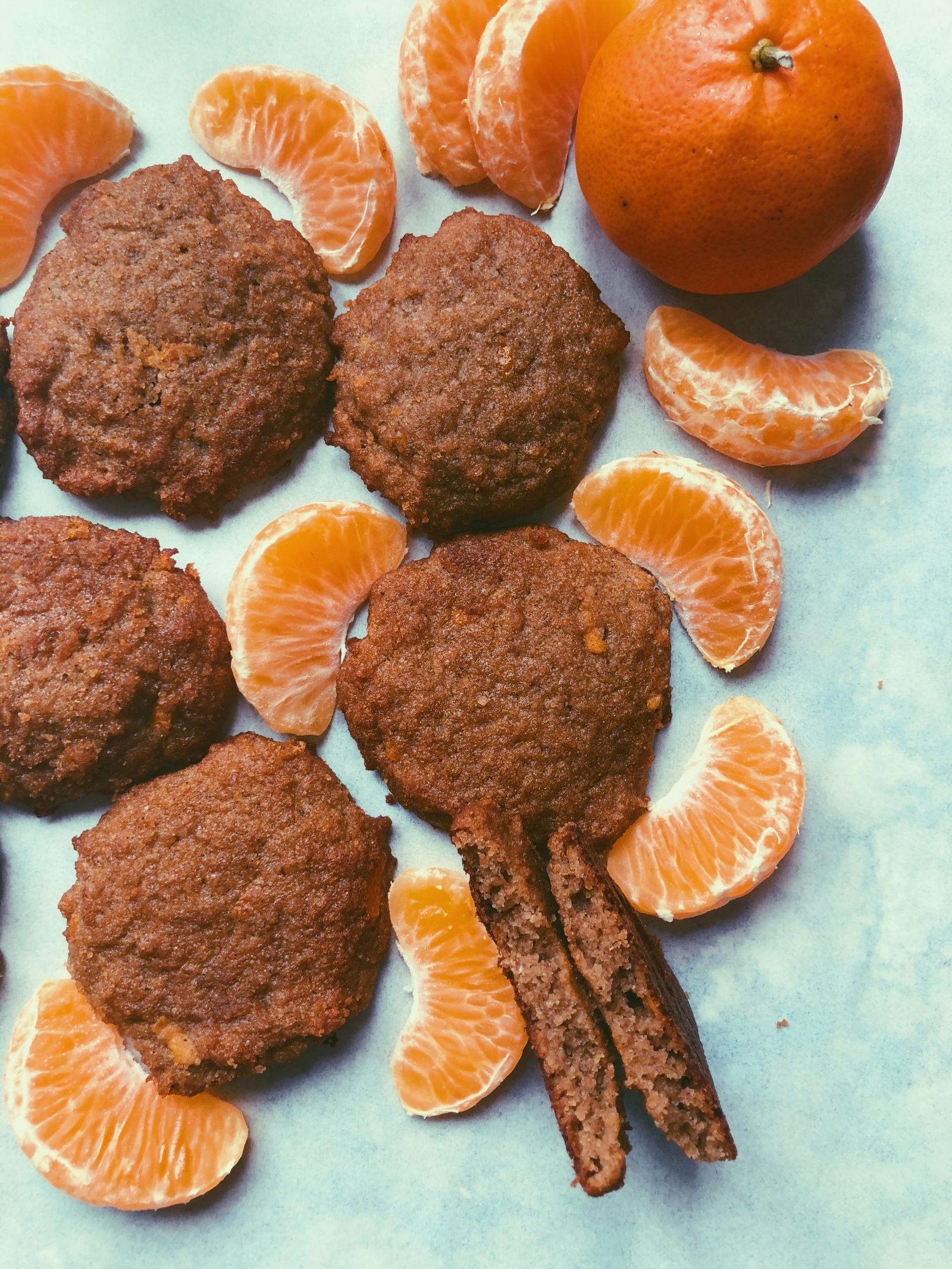 TANGERINE CHAI COOKIES INGREDIENTS
1 heaping cup of almond flour 

1/2 tsp of baking soda
1 tsp of ground ginger
1/2 tsp of ground cardamom
1/4 tsp of ground allspice
1/4 tsp of cinnamon
1 tbsp of tangerine zest 
1/4 cup of tangerine juice
2 tbsp of coconut oil
2 tbsp of honey
1 tsp of pure vanilla extract
1/2 tsp of apple cider vinegar
1 egg
TANGERINE CHAI COOKIES HOW TO
in a bowl, start by combining all your dry ingredients– almond flour, baking soda, and all your chai-flavour spices.

once combined, begin to add in your wet ingredients and mix well.
once batter is well mixed, using a tablespoon, place the cookies on a parchment paper-lined baking tray, flattening them a bit with the bottom of the spoon. 
bake at 350 for 12 minutes. makes approximately 12 cookies.