ALMOND BUTTER & DATE CARAMEL BLONDIES (GRAIN FREE, SCD DIET)
gluten free, grain free brownie-like squares made with almond butter and blended dates, to create a beautiful swirled dessert that's equally delicious to eat.
I don't often have brownies. Okay, I never have brownies. Mostly because I don't eat chocolate– I've tried it, since starting the SCD diet, to be sure, but it is not considered SCD legal. I've tried raw cacao, to be more precise, I haven't had sugar-y milk chocolate in a long damn time. Nonetheless, sometimes you want something that's brownie-like in nature, something soft and not-quite cake but not quite muffins or cookies either. That's when you whip up some blondies, just like these almond butter and date blondie bad boys.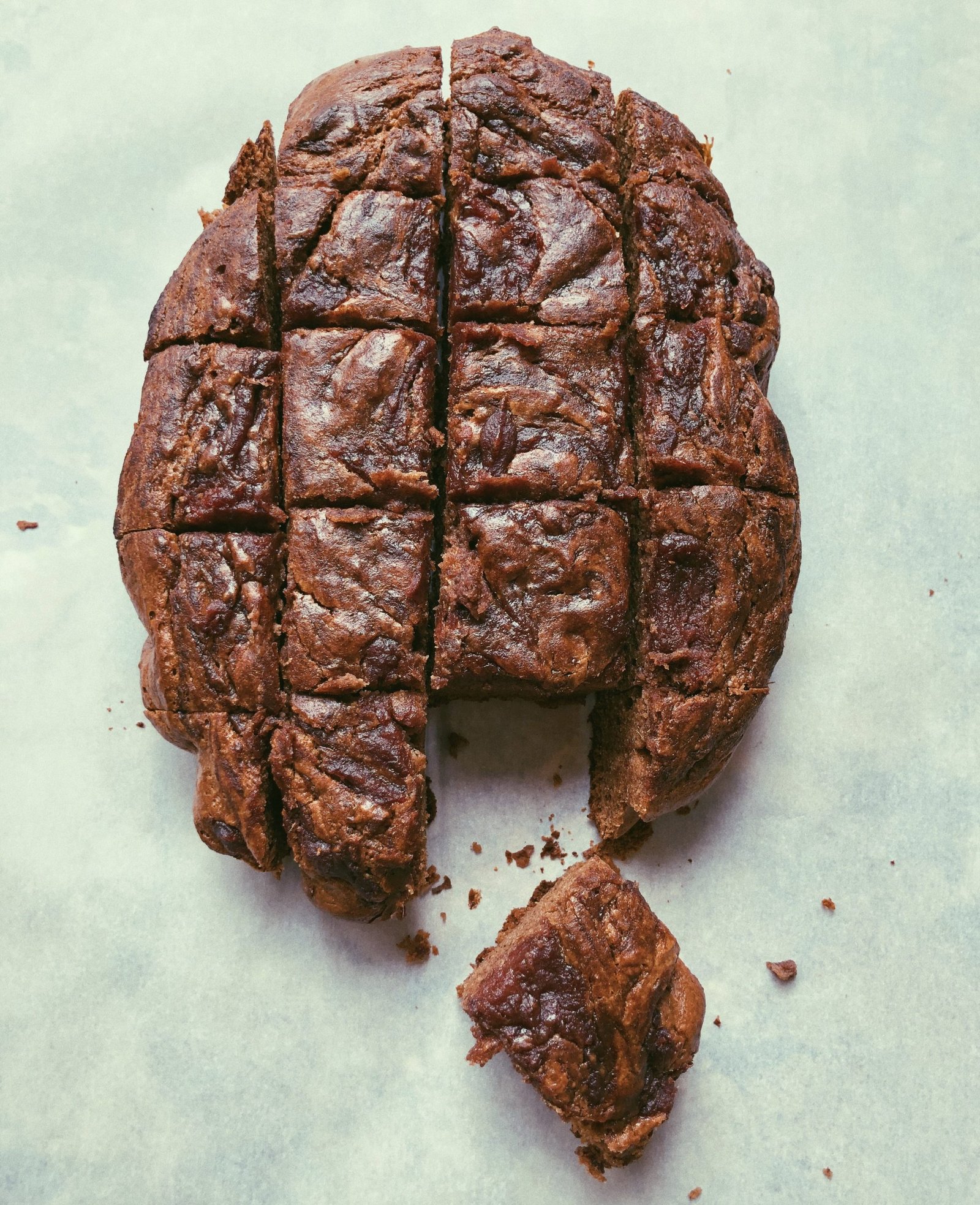 Previously, I've shared my peanut butter and jam blondies, which are always a safe bet to make, and definitely kid-friendly. However if you want to do something with a bit more of an "adult" twist to it, then you should definitely try this new and improved edition: almond butter and date blondies. It's like PB & jam for a more 'refined' palette…Or something.
These blondies get little ouey, gouey pockets of dates thanks to the date caramel incorporated in them. They're fluffy and full thanks to the inclusion of a mashed banana, but predominantly these are made out of one simple ingredient: almond butter. If you prefer, or if you don't have any on hand, you can use peanut butter easily in place of the almond butter.
The dates get swirled into the top of the blondies, creating something that's just as beautiful to look at it, as it is yummy to eat. Whether it's a companion to your morning coffee, a dessert to enjoy with your yogurt, or something to add to your freezer, these are an easy recipe to make and they don't fail to hit the (sweet) spot.
ALMOND BUTTER & DATE BLONDIES INGREDIENTS
1 cup of almond butter
1 egg
1/8 cup of honey
1 very ripe, mashed banana
6-8 tbsp of date caramel (directions on how to make below, if you need it)
1/2 tsp of pure vanilla extract
1/2 tsp of baking soda
1/4 tsp of cinnamon
ALMOND BUTTER & DATE BLONDIES HOW TO
if you already have some date caramel prepared, you can dive right in. if you don't, you'll need to first pit and soften 6-8 medjool dates by boiling them in hot water for five minutes, and then blend down them in the food processor until they're a creamy texture. you may want to drizzle in some warm water into the food processor as they blend to thin it out a bit– I use the leftover date water for this.
to create the blondies: in the food processor, add all your ingredients except for the date sauce.
blend until well combined.
remove the mixture from the food processor and fill half the batter oven-safe, small baking dish.
once you have half of the batter in the dish, place four tablespoons of date caramel into four corners of the dish, and swirl around with a knife decoratively. repeat again with the remaining batter and remaining date caramel.
bake in the oven at 350 for 35 minutes or so. allow to cool before you cut into squares, and store in the fridge or freezer.