GRAIN FREE RASPBERRY-INFUSED CAKE WITH RASPBERRY JAM & HONEY MERINGUE FROSTING
this vanilla cake is infused with honey-raspberry, and then it's topped with a homemade raspberry jam and honey meringue frosting for a decadent and layered cake masterpiece, to be served at any festive occasion.
Finally sharing this bad boy of a recipe with you all! I sent it out early and ~eXcLuSiVeLy~ (as they say) to my newsletter subscribers, so you should probably do that if you're not already on it. That being said, if you don't do it, you're honestly not missing very much yet because I don't really have my sh*t together enough to send out consistent e-mails when I drop a new recipe. BUT that also being said, you can guarantee you will get some more ~eXcLuSiVe~ sh*t if you do sign up for the newsletter, at least before it hits the webby (= website, don't ask me why, it's currently 5 AM).
For my two-year (!) (shout out me, as they say), SCD diet anniversary I bestowed myself with this epic cake. The cake is a raspberry-infused, vanilla cake with raspberry jam and honey meringue frosting. It's a long sentence, but it's also SO FREAKING GOOD. My boyfriend loved this one, he might have loved it even more than the also-epic strawberry shortcake recipe I have on my website. As someone who hasn't been eating gluten (or grains) for several years now, I leave it to my boyfriend to be the judge of a recipe when it comes to what potential gluten-eaters (and sugar-eaters) may say about it. This one has a very big stamp of approval.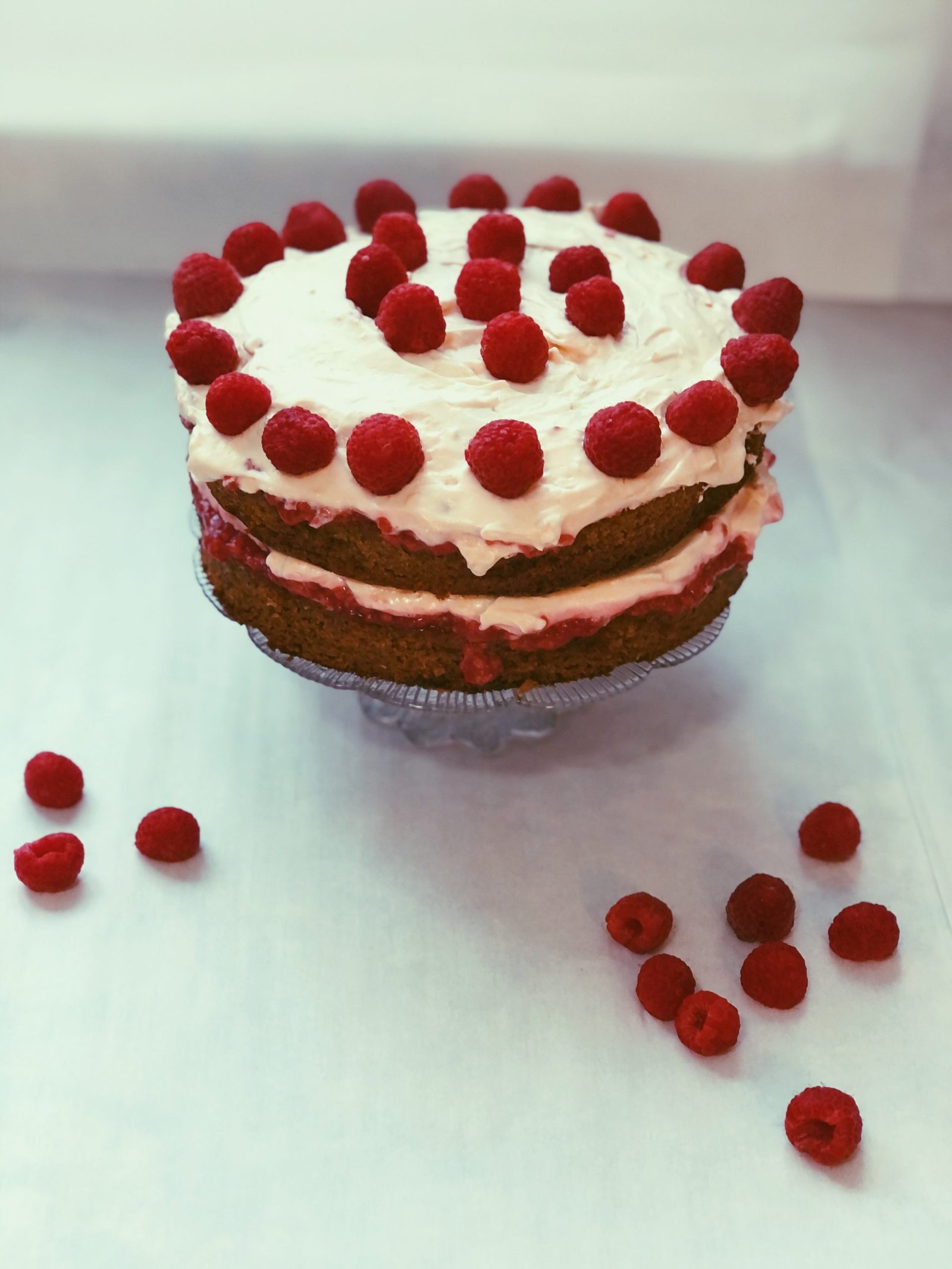 The vanilla cake is made with a honey that's infused with fresh (or frozen) raspberries, so you get a little of that raspberry essence through out the whole entire cake, but it's also layered with a quick-and-easy homemade raspberry jam as well as that freaking melt-in-your-mouth honey meringue frosting. It's decadent. It's good for an occasion, like, say, Christmas (I mean it is pretty festive with the red and white right??) but also, you can make this just because you're on the SCD diet and YOU DESERVE IT. Holla. BUT ALSO, this cake would make any man, child, or woman happy for their birthday, wink wink, if you know someone who has an SCD birthday coming up!
There are quite a few steps to get this cake done, but it's totally worth it, and also, not that difficult either. You can start with preparing the raspberry jam if you don't have any ready-made as the jam needs time to simmer and thicken, and then make your cakes in two round, 9-inch (approx) cake tins, which comes together quickly. By the time the you're done baking the cakes and allowing them to cool, your jam should also be ready to use. From there, it's just a matter of whipping up your honey meringue and constructing your epic raspberry-infused cake!
Recipe is below, please let me know if you do try this recipe, you can tag me on IG @grainfreee or leave me a comment below.
RASPBERRY JAM INGREDIENTS
2 cups of raspberries (fresh or frozen)
3 tbsp of honey
start by preparing your raspberry jam. heat the raspberries and honey in a saucepan, over medium heat.
once the raspberries begin to bubble and break down, lower the heat to allow to simmer for 45 minutes. stir occassionally.
remove from heat and allow to cool before frosting the cake.
GRAIN FREE RASPBERRY-INFUSED CAKE INGREDIENTS
1 cup of coconut flour
1 cup of coconut oil
1 cup of honey
1/2 cup of 

raspberries

 (fresh or frozen)
1 tsp of baking soda
1 tbsp of pure vanilla extract
5 eggs
GRAIN FREE RASPBERRY-INFUSED CAKE HOW TO
first, start by simmering the honey in a small saucepan over medium heat with the 1/2 cup of raspberries. once it comes to a boil, lower the temperature and allow to simmer for 10 mins.
while the honey is simmering, prepare the rest of the cake ingredients: mix the dry ingredients in a large bowl, once the honey and raspberry mixture is done simmering, pour it into the bowl. add the rest of your wet ingredients and combine well.
once combined well, pour the batter into two 8-inch cake tins, lined w parchment paper.
bake at a preheated oven at 350 for 30 mins (until golden brown on top, toothpick comes out clean).)(alternately, you could choose to make one large cake in a bigger cake tin, or you could even make these into cupcakes. baking time would vary, add approx 10 minutes for one large cake and subtract 5-10 minutes for cupcakes.)
allow to cool before attempting to remove the cakes from the tins and layering with the raspberry jam and honey meringue frosting (recipes below).
HONEY MERINGUE FROSTING INGREDIENTS
3 egg whites
1/2 cup of honey
1 tsp of pure vanilla extract
HONEY MERINGUE FROSTING HOW TO
heat the honey in a saucepan, stirring constantly. once it comes to a boil, lower the heat and allow to simmer for 5-10 minutes.
while the honey heats, whip your egg whites using a hand mixer or stand mixer, forming stiff peaks.
once the stiff peaks have formed with your egg whites, slowly drizzle in your hot honey and the vanilla extract, and continue to mix, allowing it to become fluffy. 
it will turn pearly white and become very fluffy once finished, it can take anywhere from 10-20 minutes depending on your mixer.
PUT YOUR CAKE ALL TOGETHER NOW
once you have everything prepared, place one of the cakes on a cake stand, and if you choose, you can carefully trim around the edges with a sharp knife.
cover the first cake in a layer of the raspberry jam, topped with the honey meringue frosting. 
from there place the second cake atop it.
use up the remaining jam and honey meringue to coat the top layer of the cake.
top the cake with raspberries, forming a circle around the outer edges of the cake, and another circle within it. you can place as many raspberries as you please around the top of the cake.
store the cake in the fridge.
enjoy!!!