PECAN PIE MUFFINS
these are the most divine grain free, gluten free muffins. they're filled with little bits of roasted pecans and complete with a pecan-crumb topping.
I've concluded that my favorite nut is the pecan. It is the perfect nut. Of course, my favorite nut would be among the most expensive of the nuts– in a category where everything is expensive to begin with– but I need my pecans. Whether they're roasted plainly for a yogurt topping, dipped in honey and cinnamon, or turned into a baked good, if a recipe involves pecans, I will eat it. I will even eat it if the recipe is a savoury one (!). This particular recipe is definitely not that though– these pecan muffins are a rich dessert, snack, or breakfast item– they're flexible, as many grain free baked goods are. 
These muffins are loaded with a perhaps over-the-top amount of pecans. Not only do bits of roasted pecans fill the inside of each muffin, they also call for a crumb topping that's made with you guessed it, pecans, and almond flour. The muffins are made with coconut flour and coconut cream, but if you don't have any coconut cream on hand, you can sub in 24-hour dripped SCD yogurt (thick, greek yogurt essentially). There's a hint of a cinnamon, but really, these muffins are all about embracing that buttery pecan flavour. And it does so magically!! 
I love these muffins because not only do they taste decadent, they look it. You can pile on the crumb topping, and create this beautiful muffin with very little effort involved– the crumblier the topping, better, in fact. 
For the crumb topping, I added it part-way through baking the muffin so that it didn't sink all the way into the muffins, but still got slightly roasted at the same time– I use raw pecans for that part of the recipe. The raw pecans and almond flour mixture that make up the crumb topping will get baked for the last 20 minutes, allowing for the muffins and the topping to keep their fluffed up shape, and get slightly browned at the same time.
Let me know if you try this recipe! I would love to see your creation, you can tag me on Instagram @grainfreee.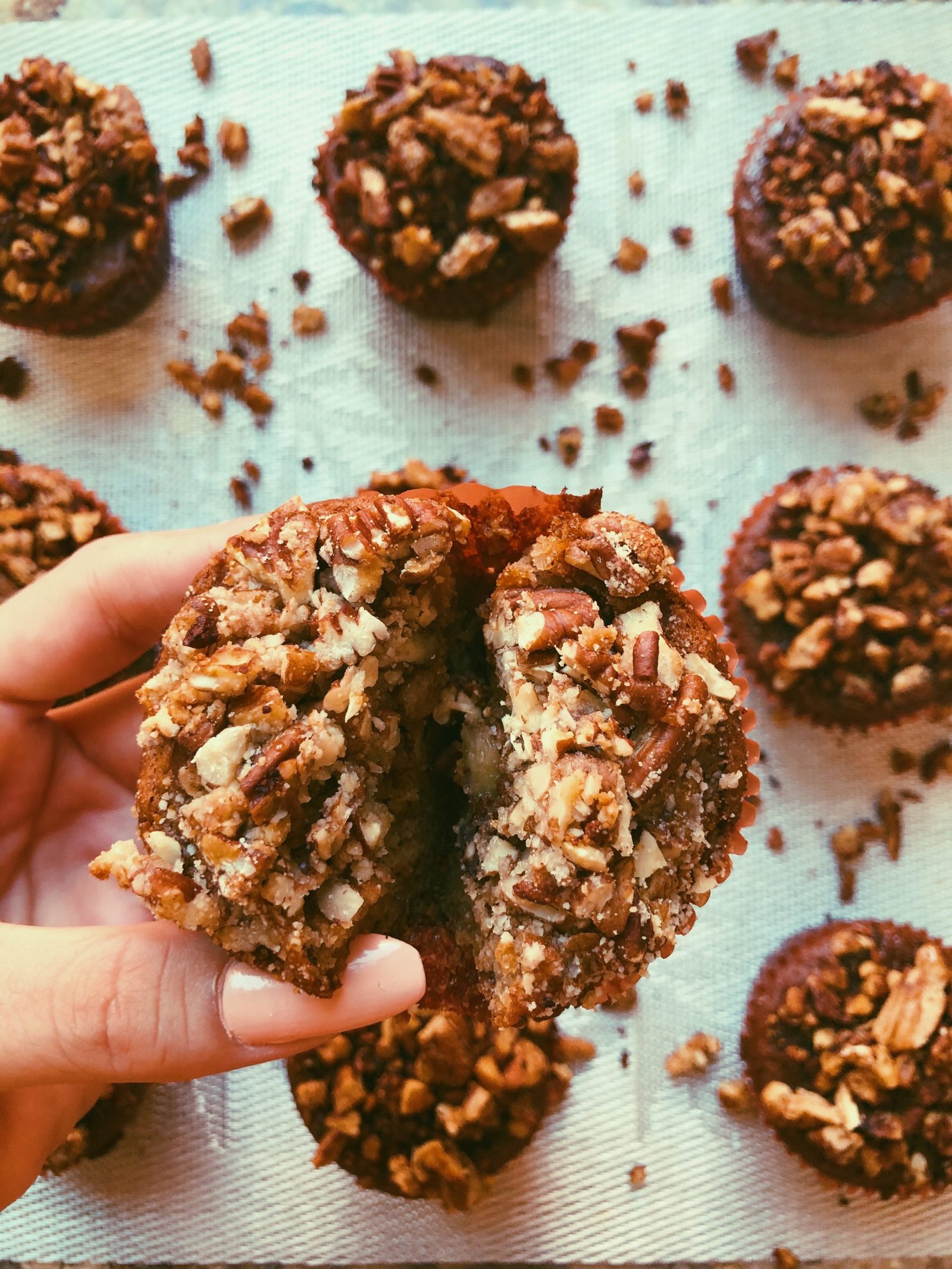 PECAN PIE MUFFINS INGREDIENTS
1/2 cup of coconut flour

1/2 cup of coconut cream (you can sub 24-hour  dripped yogurt)

1/2 cup of roasted and chopped pecans

1/3 cup of honey

1/3 cup of butter (you can sub coconut oil)

1 tbsp of pure vanilla extract

1 tsp of baking soda

1/2 tsp of cinnamon

4 eggs
in a food processor, start with blending all the dry ingredients, except for the chopped pecans. 

add in the wet ingredients and continue to blend. once well combined, remove the blade from the food processor and stir in the chopped pecan pieces.

in a muffin tray prepared with parchment cups, pour the batter evenly across each muffin. it should make approx 10-11 muffins.

bake the muffins at 350 for 10 minutes, and remove to add on the pecan crumb topping (below for full instructions on this step– it is optional, although your muffins will be much less pecan-heavy without it!), before putting the muffins back in the oven to bake for another 20 mins with the crumb topping.
PECAN CRUMB TOPPING INGREDIENTS
1 cup raw pecans, chopped

1 tbsp of honey

2 tbsp of almond flour

1/2 tsp of cinnamon
PECAN CRUMB TOPPING HOW TO
in a small bowl, mix all your ingredients together until everything is well-coated and combined.

remove the muffins from the oven after 10 minutes of baking, and use a spoonful or so of the crumb topping across each the top of each muffin, until you've finished it all up.
place back in the oven, and continue to bake for 20 more minutes, until the crumb topping is golden brown.
enjoy warm or cold. these freeze well and can be removed individually when you have the desire for a pecan pie muffin!