EASY & HEALTHY BBQ CHICKEN WINGS
these chicken wings are marinaded in a homemade bbq-sauce-like mixture for 24 hours, giving them the most amazing flavour.
Okay I'm back. Yet again. With chicken wings. But you guys, I've never done a more traditional "bbq" sauce chicken wings, aka something saucey and not dry-rub-driven. So that's exactly what I did recently. I devised a healthified version of your sauced up chicken wings, using ingredients that you probably already have stocked somewhere in your kitchen. 
This marinade consists primarily of a broth– I used a chicken broth I had stocked up in the freezer, but feel free to use any bone broth, beef broth, whatever your broth of choice might be– and pasta sauce. Yep, the good ol' glass jar pasta sauce– I try to choose SCD legal ones, so they have minimal ingredients apart from tomatoes, and are typically also organic and all that fun stuff. But any tomato sauce will do! You could definitely also make your own if you've got the time to simmer down some tomatoes until they're saucy. But if you don't have ANY time, well fear not, because this recipe is also quick– although I definitely recommend doing the prep work 24 hours in advance because you NEED that marinade time. These wings are just that much better if you allow them to marinade fully.
Once you have your ingredients all ready, this recipe should come together quickly. Simply dump your marinade ingredients into one small bowl, whisk it all together nicely, and then pour it over your wings until they're nice and covered. It's that simple. You can also do this in a large freezer bag if you have one, placing all the wings in the freezer bag and pouring your marinade in after, which will make it easy to shake these bad boys up and ensure they're well covered. It also makes it easy to place them in the fridge after and let them sit– but if you don't have a freezer bag, use a large bowl and cover the bowl with some aluminum foil while you stash them in the fridge overnight.
Your next-day-self will thank your yesterday-self when you take these wings out of the freezer and throw them in oven in less than 10 mins, with a delicious meal that will satisfy kids and adults alike in under 50 mins. Yep. Grab the latest chicken wing recipe below and tag me on IG if you try making these bad boys! @grainfreee.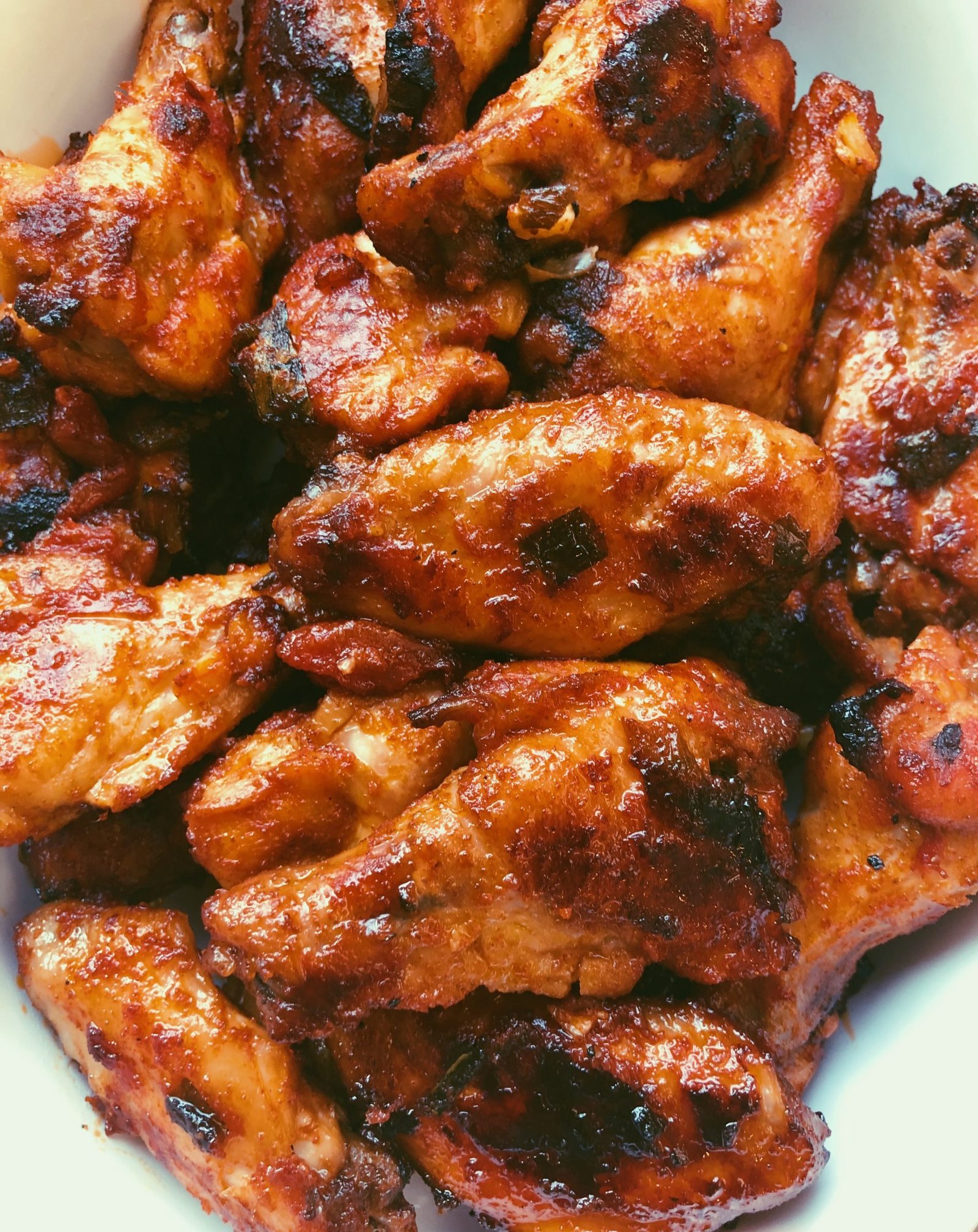 easy & healthy bbq chicken wings: ingredients
20 -25 separated chicken wings (unseparated, divide in half) (approx 1.5 lb)
1/4 cup of tomato/pasta sauce (SCD legal, no additives)
1/4 cup of bone broth or chicken stock
2 tbsp of honey
2 tbsp of toasted sesame seed oil
1 tsp of salt
1 tsp of pepper
2 tsp of smoked paprika
2 tbsp of apple cider vinegar
2 green onions diced (optional)
easy & healthy bbq chicken wings: how to
mix all the ingredients for your marinade together in a small bowl.
clean and dry your chicken wings, and place them in a large bowl. pour the bbq sauce mixture across the chicken wings slowly but surely, tossing the wings in the sauce as you go, covering them well.
let the wings marinade for 24 hours.
once ready, preheat the oven to 350.
place the wings on a parchment paper-lined baking tray or a rack, and bake in the oven for 45 mins, remove and flip, before cooking for another 10-15 mins, or until done.